The U.S. Bureau of Labor Statistics released the Consumer Price Index (CPI) for the month of May today,  at 237.900 it was up sharply from April's 237.072. This resulted in monthly inflation increasing 0.35% from April to May. Thus the annual inflation rate jumped from 1.95% in April to 2.13% in May.
Key gainers on a monthly basis were fruits and vegetables which gained 1.4% over the month and account for 1.352% of the total CPI index . Airfares were up a whopping 7.4% as the summer season got under way which accounts for 0.77% of the total CPI. The other major gainer was electricity which increased 4.1% and accounts for 2.832% of the index. Meats, poultry, fish, and eggs were also up 1.0% and account for 1.905% of the total. Although motor fuels were up less at 0.6%, since they  account for a much larger portion of the index (5.545%) they also had a significant impact on the index.
According to Reuters "U.S. consumer prices recorded their largest increase in more than a year in May" this could be a bit misleading since although annual inflation is the highest its been since October 2012 when it was 2.16% monthly inflation was "only" 0.35% which is much lower than it was as recently as March when it was 0.64%, or February 2013 when it was 0.82%. So although annual inflation has ticked up monthly inflation is quite average. According to the article firming prices could give the FED leeway to continue cutting their Quantitative Easing program.
On an Annual Basis
Looking at the longer term we see that:
Fuel Oil prices were up 5.3% annually
Natural Gas was up 7.3% for the year although it was actually down

-2.3%

for the month.
Gasoline was up 2.3% for the year and 0.7% for the month.
Overall "Energy" was up 3.3% for the year and accounts for 9.581% of the index.
Meats, poultry, fish, and eggs were up 7.7% for the year
Dairy and related products were up 4.2% on an annual basis
Overall, "Food" was up 2.5% for the year and accounts for 13.855% of the total.
"Shelter" accounts for 31.843% of the total and was up 2.9%.
Medical care services were up 3.0% and account for 5.548% of the total.
This Month: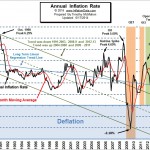 In this month's Annual Inflation rate chart we can see that April's spike upward was much sharper than May's as the angle was much less severe. We can also see the effects of Quantitative Easing in the orange shaded regions. We noted that although QE1 and QE2 resulted in a rebound in inflation so far QE3 has had little or no effect.
This month's misery index is up very slightly from 8.25% to 8.43% with the official unemployment rate flat for the month at 6.3% and the inflation rate at 2.13%.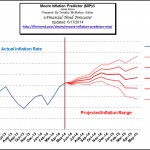 The Moore Inflation Predictor© (MIP) is a highly accurate graphical representation designed to forecast the inflation rate.  This month's MIP is projecting that inflation will be basically flat for June either slightly up or down with an upward bias through the fall but by year end the climb could peter out and even begin to fall again.
See Also: