The market was predicting a 1/4% raise in the FED Funds rate with 99% certainty and that is exactly what they got. We were wondering if because of last month's drop in annual inflation (due primarily to a mathematical anomaly) the FED would not raise rates this month.
But apparently their previous pause was sufficient under the circumstances. By applying the slight rate increase at this point, it should present the impression to the general public that they are on top of things, when the 1/3% rebound in inflation that we expect for July shows up.
FED Chairman, Jerome Powell has left the door open for further increases (or not) with his comment, "Looking ahead, we will continue to take a data-dependent approach in determining the extent of additional policy firming that may be appropriate".
The media continues to beat the drum that this is "a benchmark rate 22-year high" but inflation also hit at a 40 year high in 2022 so… DUH.
Looking at the 40 years prior to 2008,  5.35% doesn't look all that high.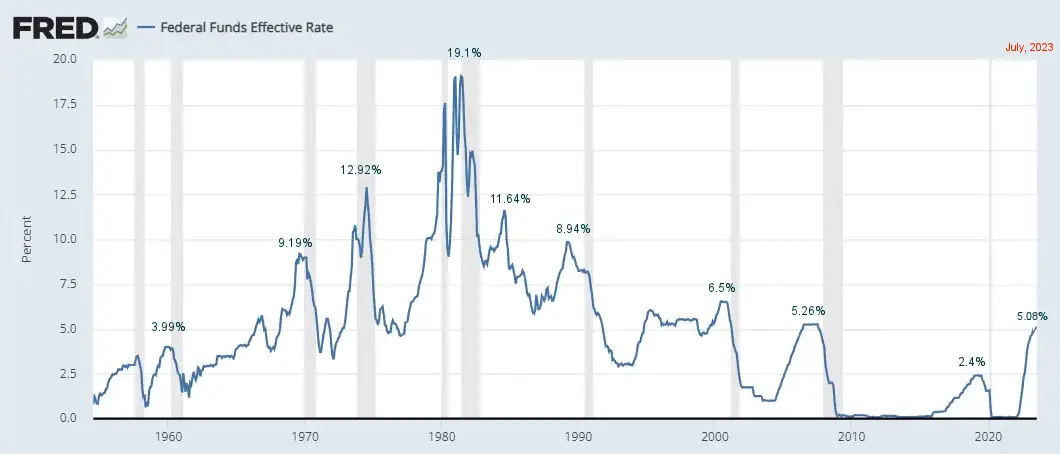 An interesting quote from Rubeela Farooqi at High Frequency Economics. "The Fed isn't basing their actions on forecasts, given they have been wrong before. They want confirmation from the data."
While Bloomberg is asking if June was a "one hit wonder"? We can assure them that it will certainly look that way up until at least September. Which will be just in time for the September 19-20th FOMC meeting. In the meantime, we may get some hints at the annual Jackson Hole confab next month.
At that point, the FED will have a couple of months of rising annual inflation rates, which may lead to the conclusion that they need to raise rates even more aggressively, although by then, it may actually not be necessary. So, only time will tell if they fall into that trap or not.
Stephen Stanley, chief US economist at Santander US Capital Markets says, "The default at this point is that the Fed is going to go again – at least once more".  
On the other hand… Bloomberg Economics Says…
"While the lack of substantive changes to the policy statement suggests the majority of officials still want to keep the door open for another rate hike, Chair Jerome Powell's somewhat dovish performance at the post-meeting news conference suggests a willingness to skip a hike at the September meeting, provided inflation data continue to be soft."
— Anna Wong, chief US economist
But what happens if the data appears to be increasing, but that is just a numerical anomaly?
Powell has also left the door open for further increases by saying,
"What our eyes are telling us is policy has not been restrictive enough for long enough to have its full desired effects," he said. "We intend again to keep policy restrictive until we're confident that inflation is coming down sustainably to our 2% target, and we're prepared to further tighten if that is appropriate. And we think the process still probably has a long way to go."
So only time will tell which way the FED goes at their September meeting.