It is not just U.S. inflation that is surging. Other countries have followed the U.S. lead and pumped massive liquidity into their economies. For instance, Brazil had double-digit inflation, Mexico had 6.24% inflation, and South Africa had 5% inflation.
Brazil:
In October Brazil announced that it had broken the double-digit inflation mark at 10.25%. The last time this happened was in 2016. In November they announced that as of October annual inflation was up slightly more to 10.67% with monthly inflation of 1.16%. In addition, Brazil is suffering from 14.1% unemployment resulting in a Misery Index of 24.77%. Currently, the U.S. Misery Index is less than half that at 10.82%.
UK Inflation Surges to a 10-year High
Although not as high as the U.S. the UK inflation rate surged to 4.2% in October the highest rate since December 2011, i.e. a 10 year high for them.
Economists had been projecting an increase of 3.9% for October, this was up from an annual inflation rate of 3.1% in September so 4.2% inflation was a shock.
Bank of England Response
Just as we had expected the U.S. FED to do something to curtail rising inflation in the U.S. economists expected the Bank of England (BoE) to raise rates in response to this sharp increase in the inflation rate. However, just as the FED has done nothing, the BoE has not raised rates either. It is possible that the BoE will take some action in their December meeting. They are projecting a further rise in inflation to around 5% early in 2022 before returning to their 2% target rate.
Component Price Increases
On a monthly basis, motor fuels in the UK were up 3% on the month, while food prices increased 1.2%. Liquid fuels were up a whopping 69.1% over the year.
Euro Zone Inflation
At 4.1% Euro zone inflation also hit a new 13-year high in October primarily due to higher energy costs which were up 23.7% over the year. This was up from 3.4 % in September 2021.
Inflation in Canada
The Consumer Price Index (CPI) rose 4.7% on a year-over-year basis in October, up from a 4.4% increase in September. This was the largest gain since February 2003. On a monthly basis, the CPI rose 0.7% in October, the largest gain since June 2020. Energy prices were up 25.5% year over year in October, primarily driven by an increase in gasoline prices. Compared with October in the previous year, consumers paid 41.7% more for gasoline. Fuel oil and other fuels were up 48.1%, and natural gas prices rose 18.7% on a year-over-year basis.
Mexico Inflation
Mexico reported 6.24% annual inflation on November 9th for the 12 months ending in October. The previous peak was in December 2017 at 6.77%.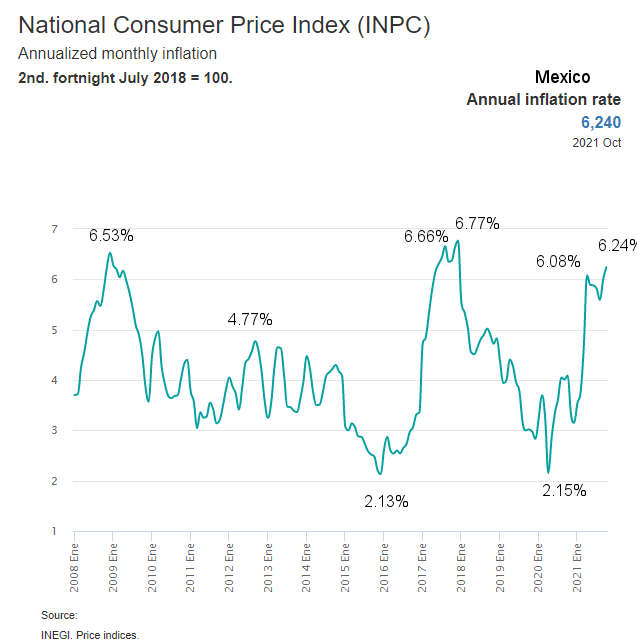 India Inflation
India separates their inflation into rural vs. urban inflation their combined annual inflation rate is 4.48% in October which is considerably lower than it was a year earlier.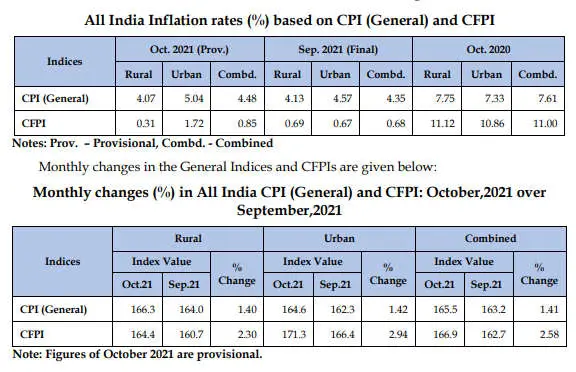 South African Inflation
All items Inflation in South Africa was 5.0% on an annual basis.  Inflation was higher in 2017 and roughly the same in 2018 but fell sharply in early 2020 with the onset of COVID.
If you are interested in the inflation rates for other countries, you can find links to the official government statistical websites for most countries here.
You might also like: