While the pandemic began to alter the way we live in 2020, its ripple effect on the economy has continued the devastation. Initially, people were not spending as much as they would have if they didn't have to remain at home. Once the government relaxed the restrictions in November 2020, people began traveling and satisfying their pent-up demand. This surge in spending overwhelmed the limited supply, which caused short-term inflation (when demand exceeds supply, prices go up).
Several other factors have affected inflation since then, and households have been reeling due to the hikes in the prices of everyday items. However, hardly anyone talks about the effect of inflation on American education and tuition fees. Nowadays, many parents are struggling to keep up with their children's rising tuition fees.
Understanding Education Inflation
Price inflation occurs when a certain amount of money won't purchase the same items it used to. If the purchasing power of your dollars wanes over time, you are likely dealing with inflation. Initially, it may not seem like a big deal, but over time, even relatively low inflation rates can thwart your saving plans and force you to work harder just to maintain your current lifestyle.
Inflation occurs across an entire industry, sector, or country, not just when the price of a single item increases. Inflation has been affecting Education costs for quite some time now. The problem began when the government decided to encourage College attendance by subsidizing College loans.
Many students thought of cheap college loans as "free money," so they were less concerned about the size of their loans. So colleges could raise their tuition and fees with impunity. Here at InflationData, we've been warning about this rapid increase since 2007.
What is the Effect of Inflation on Tuition & Fees?
The Consumer Price Index (CPI) comprises a basket of goods and services that the U.S. Bureau of Labor Statistics uses to measure inflation. Each component is assigned a "relative importance factor," which corresponds to the percentage of the "average household's budget" that is spent on that item. Of course, not everyone buys every component, but this is the average of all "Urban Consumers". According to the BLS' CPI-U calculation, the average family spends almost twice as much on childcare as on College Tuition, i.e., 2.924% of their budget vs. 1.569% for College.
Relative Importance Factor CPI-U, December 2020
| Item | Relative importance |
| --- | --- |
|  Tuition, other school fees, and childcare | 2.924 |
|   College tuition and fees | 1.569 |
|   Elementary and high school tuition and fees | 0.431 |
|   Child care and nursery school | 0.768 |
|  Technical and business school tuition and fees | 0.037 |
By tracking the index for individual components over time, we can calculate how much the prices of those individual items have inflated. In the following chart, we will look at just College Tuition and Fees.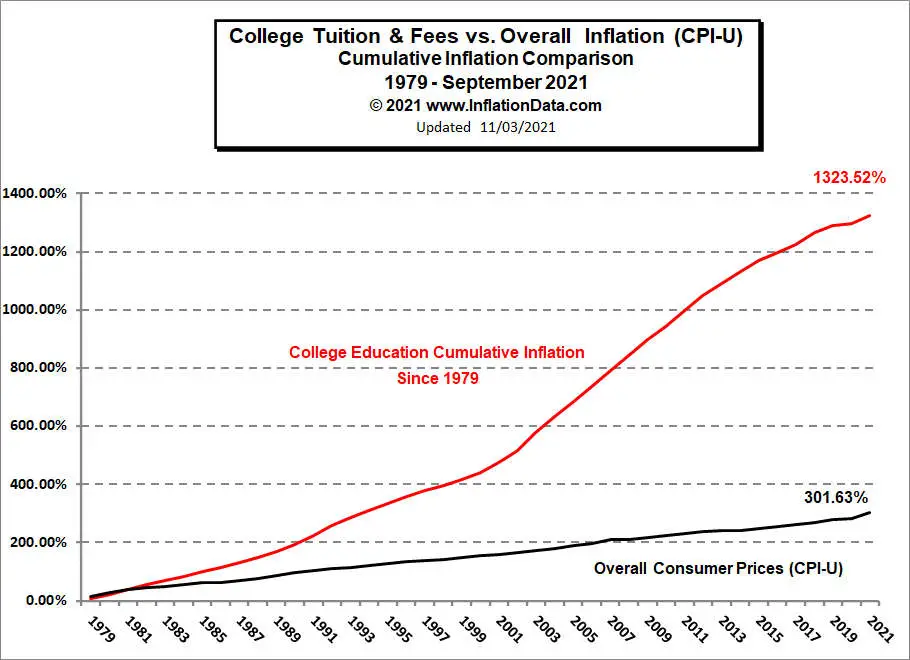 Source: Bureau of Labor Statistics, Series Id:CUUR0000SEEB01, College tuition, and fees in U.S. city average, all urban consumers, not seasonally adjusted
Tuitions have been rising rapidly since the early 1980s, as we can see in the above chart. Tuition rates increased by 2% in public and private universities between the 2020-2021 and 2021-2022 academic years. In 1980, overall costs rose faster than Education costs, but since then, we can see that education costs have dramatically outpaced other costs. While prices, in general, are up just over 300% since 1979, Education costs are up over 1000% more than prices in general.
According to the latest reports from the National Student Clearinghouse Research Center, we can already see a 3.5% decline in student enrollment in schools in all sectors this spring. Many students can no longer afford to pay the tuition for colleges, which is one of the factors forcing them to take a gap year. And even those who finance the increasing tuition fees might still struggle to afford things like books, Lab Fees, Friday night pizza, and a college essay writing service for when they don't feel like writing their own term papers.
Unfortunately, many students can no longer afford to pay the tuition for colleges, which is one of the factors forcing them to take a gap year. Thanks to inflation, many families struggle to afford tuition. Some parents have convinced their children to attend community college for the first two years instead of University to reduce education costs.
What Students Actually Pay
Although these statistics look dire, they are based on "Published Tuition Rates," and virtually no one pays that total rate. It is the same as hotels' "Rack Room Rates". They are almost always discounted except in extreme circumstances. Although Universities don't offer "discounts," they do offer grants, scholarships, and work-study programs.
According to the CollegeBoard's Trends in College Pricing Report, only about 43% of a Bachelor Degree at a Public College is paid for by the student, 41% comes from "State and Local Appropriations," and 16% comes from "Federal Appropriations and Federal, State, and Local Grants and Contracts". But students are being forced to pay for a greater percentage of their education than they did 20 years ago. Back then, students only paid for about 30% of their education, with the remainder coming from State, Federal Government, and Grants, etc.
And the gravy train isn't limited to Public Universities. Private University students tapped into endowments for scholarships. The top 10% of Universities with Endowments had over $600,000 per Bachelor Student, while the second decile only had $218,800 per student, and endowments declined rapidly for lower-tier Universities. Of course, each student doesn't get that much. Theoretically, the average student could receive their percentage of whatever amount of interest/dividends that the University earned on that endowment.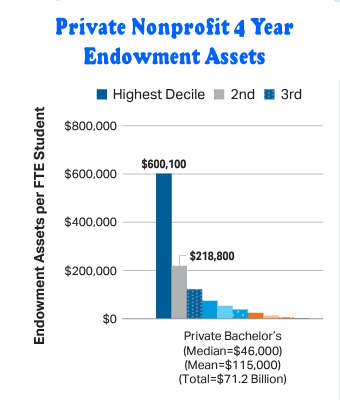 Conclusion
The relationship between tuition fees and general economic inflation is often deeper than one ill-advised government policy. But if history is any indication, inflation often increases the cost of getting a college education. So if you are looking to get into the University soon, planning to counteract the effects of inflation on your education could be the wisest decision you ever made.
You might also like: