With the steady decline in gasoline prices during 2015 people aren't too concerned with the price of gas anymore. But on occasion crude oil prices have fallen without the corresponding decline in gasoline prices.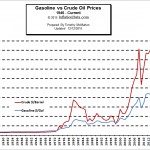 When this occurs someone always asks me if the prices are actually correlated or are the oil companies just ripping us off. This prompted me to create a chart comparing the price of crude oil to that of gasoline so you can see for yourself how well they correlate and I recently updated that chart.
See the full article here: Gasoline vs. Crude Oil Prices.
You might also enjoy: