Independent Inflation Tracking Numbers
Updated February 19, 2016
For some reason people don't seem to trust the government. I can't understand why. Surely the government only has our best interests at heart and wants to take care of us like good parents, and they are just protecting us from ourselves. And of course all politicians are honest, selfless, hard-working civil servants. Right?
Well,  Okay maybe they don't always have our best interests at heart. And maybe it would benefit the budget if they didn't have to pay so much for cost of living increases but surely they aren't fudging the Consumer Price Index are they?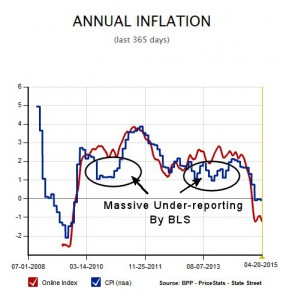 I frequently get emails, and occasionally phone calls, asking just that question. Often the conversation will go something like this: I know that a few months ago when I went to the grocery store my favorite Arnold Oatnut bread cost $2.50 and only a few months later it is costing me $2.89 so lets see that's a 15.6% increase in six months so annual inflation must be around 31% right? And the government is telling us that inflation is around 2% so they must be lying!
I recently got a call from someone who was convinced that the CPI didn't reflect reality because the government has started leaving out food and energy. This is a common misconception because you can look at the "Core CPI" which doesn't include food and energy. The core CPI though is primarily for statisticians who are trying to track the effects of increases in the money supply and food and energy are often subject to other outside forces including everything from the weather to unrest in the Middle East.
One reason for the possible confusion is that the Federal Reserve uses a method of calculation called Median CPI which is similar to core CPI for determining its monetary policy.  To calculate the Median CPI, the Federal Reserve Bank of Cleveland looks at the prices of the goods and services published by the BLS. But instead of calculating a weighted average of all of the prices, as the BLS does, the Cleveland Fed looks at the median price change—or the price change that's right in the middle of the long list of all of the price changes.
So if you are a statistician you can look at the core CPI, but otherwise it is pretty much worthless, and for specific purposes you can also look at just food or just energy or almost any other combination you like. But if you want to track the entire 10,000 item list of goods that the "average" consumer might buy you can look at the "Consumer Price Index for all Urban Consumers" (CPI-U) or just "CPI" for short.
Other Fudging Possibilities
Even though the CPI doesn't exclude food and energy like many people think, it is still possible that the government is fudging the numbers.  John Williams at Shadow Stats contends that the government has changed the way it calculates the CPI over the years and thus it is chronically under reporting the inflation rate so he tacks on a flat 4% to the government numbers to make up for their "under reporting". Some how a flat addition doesn't sound like the right approach to me either.
I have always wished I could track a bunch of items and have my own price index. Then I could compare it to the CPI. Then I would know exactly how the CPI stacks up and I'd also know how my purchase prices have changed over time. Apparently I'm not the only one… recently two economists, Alberto Cavallo and Roberto Rigobon at M.I.T. have developed a brilliant way  to do just that. As a matter of fact, their method is so ingenious that it actually tracks inflation on a daily basis instead of just monthly. Rather than doing it like the government does and hiring thousands of workers to call businesses and find out the current price of everything from apples to Zip-Lock bags, they have developed a system that tracks online prices and calculates the inflation rate.
They freely admit that it won't be exactly the same as the CPI since it only tracks online prices but it does track supermarkets, electronics, apparel, real estate and many other things. Unfortunately it doesn't track services because they are generally unavailable online. At this point they are actually tracking over 5 million individual items compared to the CPI's 10,000 so for the categories it tracks, it actually provides a greater level of accuracy in addition to providing data daily instead of just monthly.
Cavallo and Rigobon are working on making it a world-wide index. They are currently tracking prices in over 70 different countries. Of course, many of those items don't apply to the U.S. inflation rate because they are priced in Rubles or Lira or something other than Dollars. But you can limit your search to just the United States. So that is exactly what I did. Since they track it on a daily basis I compared their data on the last day of the month with the CPI for that month (which comes out two weeks later from the government). Cavallo and Rigobon call their index the "Billion Price Project" or "BPP".  (Note: Since this article was originally written the BPP went "for Profit" so data is only available via subscription through State Street Research.)
State Street Research now  maintains and markets the data to companies needing more reliable data than that provided by the government. If companies are willing to pay for data they could get for free what does that say about the accuracy of the BLS data?
In the following chart we can see that their BPP index (called the Daily Online Price Index which is their version of the Consumer Price Index) has been consistently higher than the CPI during inflationary times. This lends credence to the idea that the government is under-reporting inflation. As we can see from the chart the difference is cumulative and continues to grow as time goes on. If it were just a statistical anomaly the BPP index should cross below the CPI 50% of the time.
Although it is obvious that the BLS is under-reporting the index, unfortunately it is difficult to tell by looking at the index itself how significant the under-reporting is. But if we look at the Annual Inflation Rate we can see some interesting things. Unfortunately, due to their publishing delay we are unable to see the most current numbers.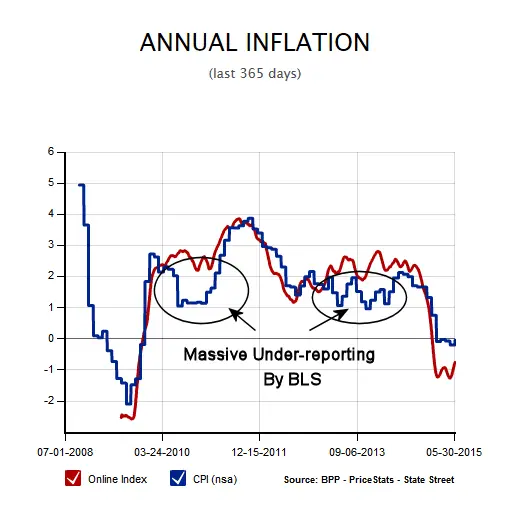 Looking at the chart above you will see how the two compare. Note that the BPP numbers (called "Online Price Index") track the  government numbers quite well sometimes and very poorly for most of 2010 and 2013-2014, where the BLS was significantly under-reporting inflation. Interestingly, in 2014 it appeared that the BLS was finally returning toward reality (although still understating inflation). I find it interesting that as deflation took hold the lines crossed and now the BLS is actually under-reporting deflation. This makes one doubt an inherent bias to the downside in the BLS calculations and presents the possibility of a much more intentional fudging of the numbers.
I have received some flack for reporting on the BPP with some people complaining that it doesn't include services. And that is a very good point. Obviously, it is difficult to buy services online. At least services like healthcare and plumbers. Although more and more services are being offered on sites like elance, Guru.com and fiverr. But the point that healthcare and education aren't included could be an issue, after all the BLS readily admits that both sectors are growing faster than the average. But if these two highly inflated sectors are being under-reported in the BPP the inflation gap is actually more than 1% in 2010 and 2013-2014.
In addition to inflation numbers, there is evidence that the government is fudging other numbers as well. See Employment vs. UnEmployment to see how the government's own numbers don't agree. Also see Is the Government Fudging Unemployment Numbers? to see a comparison of the Government's numbers to those collected by the Gallup poll people. See also More "Funny" Data from the Government where Leonard Brecken of Oilprice.com calls into question numbers generated by both the International Energy Agency (IEA) and the Energy Information Administration (EIA) regarding oil production and demand.
Personal Perspective on Actual Inflation:
In early 2012, I happened to be in the grocery store and was thinking about prices back when I was in college in the late 1970's. My roommates and I used to do the grocery shopping together and buy the little 8 oz. cans of tomato sauce (not the standard 16 oz size). We always bought the cheapest stuff we could find. Store brand or "White label" and for some strange reason I still remember the price… 25¢ a can. So when I was in the store I happened to see the little cans and guess what… the store brand was 35¢ and the white label was 25¢ a can. This is 35 years later and the inflation on a can of tomato sauce is between 40% (@ 35¢) and zero % (@ 25¢).
Even if the total inflation is 40% the Compound Annual Growth Rate (CAGR) is only 0.97% (the same as if the annual inflation rate was 0.97%). Of course tomato sauce (along with milk and eggs) are often "Loss Leaders" for grocery stores and their prices probably don't reflect the true level of inflation in the economy.
See: Investopedia's Compound Annual Growth Rate Calculator
So maybe tomato sauce isn't a good example. So from the grocery store I happened to go to Sam's and there I was amazed to find a microwave for $69. I think my parents paid about $700 for theirs back in 1978 (admittedly it was much bigger). But I'm sure I couldn't buy any size microwave for $69 in 1978.
In 1981 the year after I graduated, my college was the first college in the country to require all incoming freshman to have a personal computer… an "XT"  if I remember correctly, monstrously heavy desktop, generic brand, 256k RAM memory, school discount pricing, $3000.
Today you can get a laptop with 4 gigabytes of ram and a processor that is many multiples faster than an XT  for about $500 without any special discounts and recently Walmart had desktops for $300. (add another $100 for a thin LED monitor 2 – 3 times larger than anything available in 1981.)
So a lot depends on which products you are looking at. Where's your focus? Is the glass half empty or half full? Are we getting killed by inflation or are things incredibly cheap? If you don't trust the government, I don't blame you. I don't trust them either. But the folks at MIT have less reason to fudge the numbers, they aren't paying out billions based on their calculations. In fact, they are using the data for research purposes (and selling the data to corporations and market traders through "State Street" ) so they have incentives for getting the most accurate data possible. They also have technology on their side as they use the Internet to automatically collect prices. And since corporations are willing to pay high prices for the same data they can get for free from the BLS my guess is that the corporations don't trust the government data either. So what do you think? Let us know below.
See Also: