According to the May report of the Richmond FED– the index of manufacturing activity fell 16 points from a positive level of 10 in April to a declining (negative level) of -6 in May thus indicating that manufacturing actually contracted during the time period. During this same time the cost of raw goods required to manufacture goods increased dramatically.
Inflation was the monthly equivalent of an average annual rate of  6.12% in May the highest monthly reading since December 1993 up 27%  from April's equivalent of 4.81%.  As I've said many times 5% annual inflation will stifle the economy 6% is pretty devastating. Manufacturing activity in negative territory is a sign of a recession and according to the following chart it looks like we are headed in that direction as manufacturing breaks below zero again. Note that during times of recession manufacturing activity is negative.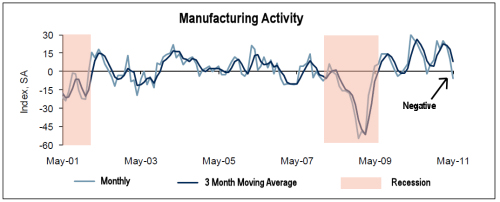 See the full Richmond FED Report
Connect with Tim on Google+.