Inflation is generally a gradual process, so most people don't put much thought into inflation, since it happens so slowly.  But certain things can cause inflation to occur at a faster rate than it normally would and at times countries even experience hyperinflation like Zimbabwe did several years ago and Venezuela is now. But even when it is gradual, creeping inflation can have a major effect on just about everyone. Generally, when we think of inflation we think of rising food prices. But although you might never have really thought about it, inflation can have a huge impact on everything from food to cars to the job market i.e. both products and services. Here are a few ways that inflation has caused changes that affect both employers and employees.
Inflation in Relation to Salaries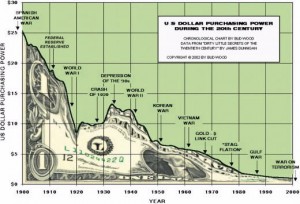 In the early stages of an inflation cycle, the economy starts booming as more money begins circulating around in the economy. Companies aren't as interested in cutting costs because there is so much money floating around. (What they don't realize yet is that each dollar is worth less because the money supply has increased). All they know is that more people are buying their products
or services. Unemployment rates are going down and it is more difficult to find and retain qualified workers so companies have to pay employees more. This in turn gives employees more purchasing power thus boosting the cycle even further.
Encouraging Employers to Look for Other Benefits
As every human resources department tries to capture the best employees for themselves they begin to look for creative ways to lure them in, such as offering benefits like paid time off, and health insurance, and then expanding to more esoteric benefits like in-office gyms, massages, free lunch, casual dress code, etc., rather than just pay raises.
So far everything is wonderful and if everything stayed like this forever inflation would be the magic cure for all economic ills. But like any drug, after a while it stops having the desired effect and you need bigger and bigger doses to get the same high.  At some point, the people catch on to the idea that their money is buying less and their increased salaries aren't buying as much as their old lower salary used to. So households begin cutting back on expenses. Then companies begin to see lower sales and higher expenses. As the economy continues contracting many families are forced to live on a stricter budget. Families begin restricting purchases to basic groceries and essentials which continue to go up in price, and for many families, this can mean tricky financial situations. It also means where mothers might prefer to stay at home, now women have to work to supplement household incomes.
Reducing Jobs
At this point in the inflation cycle, companies find they are having to pay out more than ever to keep their businesses going, which is having a major effect on their bottom line. Rising costs and falling profit margins cause employers to try to reduce expenses. They can't buy less materials and still produce the same number of goods, so they cut expenses by decreasing the number of employees they have to pay and squeezing more work out of each employee. At first this can actually improve efficiency by eliminating the "deadwood" and non-productive employees, i.e. the ones spending all their time at the watercooler and distracting other employees who are trying to work and reducing their productivity. This phase isn't really super profitable but more of a plateau period where increased productivity and reduced labor costs contain inflation based cost increases but they don't have a major impact on long term growth.  But at some point employees get overworked, frustrated and burnt out. At that point, productivity starts decreasing and costs start increasing once again, as other costs continue to rise.  Eventually, companies are forced to cut even more drastically, laying-off even good employees causing the unemployment rate to skyrocket and the economy to fall into recession. At this point in the cycle, competition for jobs (any job) gets fierce and even the best employees are scrambling.
What to Do During a Recession
During a recession the economy is contracting, unemployment is escalating, and those who were once content with their current jobs, are finding they just aren't making enough money to get by anymore. For those folks who do get laid-off, going back to school (when you're unable to find a job anyway) may be the best option… if you can somehow afford to cover the costs.  After all, getting an education can help open up a person's opportunities and can help to find better-paying employment once the economy turns around.  See: The Difference a Degree Makes in Unemployment Levels
See Also: