The U.S Bureau of Labor Statistics released their monthly inflation report today covering the 12 months ending in January indicating a massive jump in inflation. Should you worry?
Current inflation (CPI-U) nearly doubled from 0.73% to 1.37%. The Consumer Price Index was 236.916 up from 236.525 in December.
According to the BLS, the rate of decline for Energy has slowed a bit last month. Energy was down -12.6%  in January, but only down -6.5% over the previous 12 months in February.  Gasoline is only down -7.3% this month compared to -19.7% last month, while Fuel Oil is down -28.7% compared with -31.4% in December. The only energy commodity that is down more than previously is Electricity which is down -2.4% compared with -1.2%. On the other hand motor vehicle insurance is up 5.4%, Hospital services are up 4.6%, and rent is up 3.7%.
Annual Inflation Chart:
This month's move has shifted inflation from the bottom of the channel to mid-channel, so the short term trend appears to be up. But remember, unless it moves out of the top of the channel the long term trend could remain down. However, based on timing alone the long term trend has been down since it peaked in 1980. That is just over 35 years. And considering how close to zero inflation is, we may have seen the bottom. For more information see the Annual Inflation Chart.
Inflation Projections (MIP)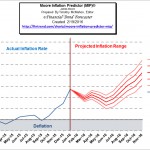 Last month's Moore Inflation Projection (MIP) was projecting a move up but it undershot the target. But in the commentary I said, "Monthly inflation for January 2015 is also very negative so if they are replaced by less negative numbers that will result in a massive jump in annual inflation…  if January 2016 is back to "normal" with roughly  0.50% INFLATION we could see the annual inflation rate jump a full percentage point in one month, which could easily panic the uninitiated."
So even though monthly inflation was only 0.17% because such a large negative number fell out of the calculation inflation jumped up 0.69% in a single month from 0.73% to 1.37%.  Next month a large positive number will be falling out of the calculation so inflation should come back down a bit.  See Moore Inflation Predictor for more information.
NYSE Rate of Change (ROC)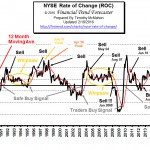 The NYSE is currently around 9532 but a full two years ago (in February 2014), the NYSE- ROC generated a sell signal to get out at around 10,254 so you could have been safely invested in some sort of fixed income investments for almost two years now and not missed any gains. The ROC was down sharply this month and has crossed the zero line (meaning less than zero returns for holding the NYSE for a full year) i.e. those holding market positions are now losing money where if they had gotten out at our sell signal they would not have suffered losses.
NASDAQ Rate of Change (ROC)
Although the NASDAQ index was slightly higher versus the previous month the annual rate of return fell to a loss for the 12 months -7.27%. This is still considerably better than the NYSE which is currently looking at a year-over-year LOSS of -13.77%. And over -19% down from the peak. The NASDAQ rate of return continues to be below its moving average and the NASDAQ ROC continues its SELL signal! See NASDAQ – ROC for more information.
Misery Index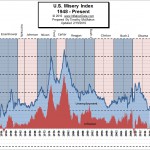 The misery index is calculated by adding the Annual inflation rate to the Seasonally Adjusted unemployment rate and helps us to visualize how good or bad the economy is. Since life gets more "miserable"  when both unemployment and inflation rise a high misery index indicates a "bad" economy while a falling index indicates an improving economy. For more information on the Misery index and  the Presidents that presided over them see Misery Index.
You may also like: