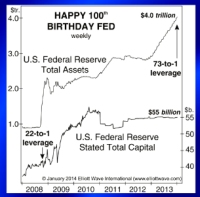 Although we may not always agree with Steve Hochberg's conclusions the following video contains some very thought provoking ideas accompanied by some charts that you probably haven't seen anywhere else.  It's interesting to note the quadrupling of the FED's leverage over the years since 2008 and the amazing lack of inflation associated with it. Check out this excellent six-minute video clip by Elliott Wave International's Steve Hochberg… at the Orlando Money Show.

Despite the Fed's leverage and its attempt to inflate throughout the economy, the deflationary pressures in the U.S. are overwhelming.
---
Gain an Advantage Over 99% of U.S. Investors – in Just 15 MinutesYou can put yourself among an elite group of investors who step away from the herd. Investors who play by their own rules. Investors who protect their money from little-known risks yet still manage to catch and ride opportunities that no one else even sees coming. Investors who consistently prove that it PAYS to be ahead.

That's why we created the just-released Financial Forecast Nuggets Report. It delivers some of the latest juicy nuggets from our most popular service for U.S. investors. How can our 15-minute nuggets report be so valuable? It's 100% FREE!
This article was syndicated by Elliott Wave International and was originally published under the headline Why the Fed Does Not Control Inflation and Deflation. EWI is the world's largest market forecasting firm. Its staff of full-time analysts led by Chartered Market Technician Robert Prechter provides 24-hour-a-day market analysis to institutional and private investors around the world.