By Ben Hunt, Ph.D.
Two things happened this week with the FOMC announcement and subsequent press conferences by Bernanke, Bullard, etc. – one procedural and one structural. The procedural event was the intentional injection of ambiguity into Fed communications. As I'll describe below, this is an even greater policy mistake than the initial June FOMC meeting when "tapering" first entered our collective vocabulary. The structural event … which is far more important, far more long-lasting, and just plain sad … is the culmination of the bureaucratic capture of the Federal Reserve, not by the banking industry which it regulates, but by academic economists and acolytes of government paternalism. These are true-believers in too-clever-by-half academic theories such as management of forward expectations and in the soft authoritarianism of Mandarin rule. They are certain that they have both a duty and an ability to regulate the global economy in the best interests of the rest of us poor benighted souls. Anyone else remember "The Committee to Save the World" (Feb. 1999)? The hubris levels of current Fed and Treasury leaders make Rubin, Greenspan, and Summers seem almost humble in comparison, as hard as that may be to believe. The difference is that the guys on the left operated in the real world, where usually you were right but sometimes you were wrong in a clearly demonstrable fashion. A professional academic like Bernanke or Yellen has never been wrong. Published papers and books are not held accountable because nothing is riding on them, and this internal assumption of intellectual infallibility follows wherever they go. As a former cleric in this Church, I know wherefore I speak.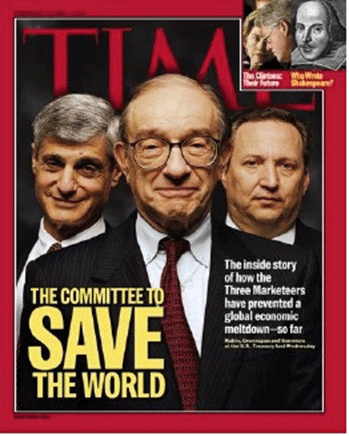 There's frequent hand-wringing among the chattering class about whether or not the Fed has been "politicized." Please. That horse left the barn decades ago. In fact, with the possible exception of Paul Volcker (and even he is an accomplished political animal) I am hard pressed to identify any Fed Chairman who has not incorporated into monetary policy the political preferences of whatever Administration happened to be in power at the time.
Bureaucratic capture is not politicization. It is the subversion of a regulatory body, a transformation in motives and objectives from within. In this case it includes an element of politicization, to be sure, but the structural change goes much deeper than that. Politicization is a skin-deep phenomenon; with every change in Administration there is some commensurate change, usually incremental, in policy application. Bureaucratic capture, on the other hand, marks a more or less permanent shift in the existential purpose of an institution. The WHY of the Fed – its meaning – changed this week. Or rather, it's been changing for a long time and now has been officially presented via a song-and-dance routine.
What Bernanke signaled this week is that QE is no longer an emergency government measure, but is now a permanent government program. In exactly the same way that retirement and poverty insurance became permanent government programs in the aftermath of the Great Depression, so now is deflation and growth insurance well on its way to becoming a permanent government program in the aftermath of the Great Recession. The rate of asset purchases may wax and wane in the years to come, and might even be negative for short periods of time, but the program itself will never be unwound.
There is very little difference from a policy efficacy perspective between announcing a small taper of, say, a $10 billion reduction in monthly bond purchases and announcing no taper at all. But there is a HUGE difference from a policy signaling perspective between the two. Doing nothing, particularly when everyone expects you to do something, is a signal, pure and simple. It is an intentional insertion of uncertainty into forward expectations, a clear communication that the self-imposed standards for winding down QE as established in June are no longer operative, that the market should assume nothing in terms of winding down QE.
Purposely Adding Uncertainty
Think of it this way … why didn't the Fed satisfy market expectations, their prior communications, and their own stated desire to wait cautiously for more economic data by imposing a minuscule $5 billion taper? Almost every market participant would have been happy with this outcome, from those hoping for more accommodation for longer, to those hoping that finally, at last, we were on a path to unwind QE. Everyone could find something to like here.
But no, the FOMC went out of its way to signal something else. And that something else is that we are NOT on automatic pilot to unwind QE. A concern with self- sustaining growth and a professed desire to be "data dependent" are satisfied equally with either a small taper or doing nothing. Choosing nothing over a small taper is only useful insofar as it signals that the Fed prefers to maintain a QE program regardless of the economic data. And that's a position that almost every market participant can find a reason to dislike, as we've seen over the past few days.
I mean … when even Fed apologist extraordinaire Jon Hilsenrath starts to complain about Fed communications (although his latest article title remains "Market Misreads Signals"), you know that you have a Fed whose preference functions are not identical to the market's.
QE is Now and Entrenched Government Program
Moreover, Bernanke and his team are taking steps to prevent future FOMC's or Fed Chairs from reversing this transformation of QE from emergency policy to government program. In addition to the implicit signal given by choosing no taper over a small taper, there was an explicit signal in both Bernanke's comments on Wednesday and in Bullard's interviews on Friday – the Fed is adding an inflation floor to its QE linkages, alongside the existing unemployment linkage. Previously we were told that QE would persist so long as unemployment is high. Now we are told that QE will also persist so long as inflation is low. Importantly, these are being presented as individually sufficient reasons for QE persistence. If unemployment is high OR inflation is low, QE rolls on. Precedent matters a lot to any clubby, self- consciously deliberative Washington body, from the Supreme Court to the Senate to the FOMC, and by setting multiple explicit macroeconomic linkages to QE – all of which are one-way thresholds designed to continue asset purchases – this Fed is making it much harder for any future Fed to reverse course.
But wait, there's more …
Given the manner in which inflation statistics are constructed today – and just read Janet Yellen's book (The Fabulous Decade: Macroeconomic Lessons from the 1990's, co-authored with Alan Blinder) if you think that the Fed is unaware of the policy impact that statistical construction can achieve … changing inflation measurement methodology is one of the key factors she identifies to explain how the Fed was able to engineer the growth "miracle" of the 1990's – inflation is now more of a proxy for generic economic activity than it is for how prices are experienced. In a very real way (no pun intended), the meaning and construction of concepts such as real economic growth and real rates of return are shifting beneath our feet, but that's a story for another day. What's relevant today is that when the Fed promises continued QE so long as inflation is below target, they are really promising continued QE so long as economic growth is anemic. QE has become just another tool to manage the business cycle and garden- variety recession risks. And because those risks are always present, QE will always be with us.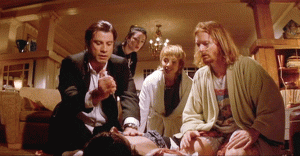 In Pulp Fiction the John Travolta character plunges a syringe of adrenaline into Uma Thurman's heart to save her life. This was QE in March, 2009 … an emergency, once in a lifetime effort to revive an economy in cardiac arrest. Now, four and a half years later, QE is adrenaline delivered via IV drip … a therapeutic, constant effort to maintain a certain quality of economic life. This may or may not be a positive development for Wall Street, depending on where you sit. I would argue that it's a negative development for most individual and institutional investors. But it is music to the ears of every institutional political interest in Washington, regardless of party, and that's what ultimately grants QE bureaucratic immortality.
It is impossible to overestimate the political inertia that exists within and around these massive Federal insurance programs, just as it is impossible to overestimate the electoral popularity (or market popularity, in the case of QE) of these programs. In the absence of a self-imposed wind-down plan – and that's exactly what Bernanke laid out in June and exactly what he took back on Wednesday – there is no chance of any other governmental entity unwinding QE, even if they wanted to. Which they don't. Regardless of what political party may sit in the White House or control Congress in the years to come, it will be as practically impossible and politically unthinkable to eliminate QE as it is to eliminate Social Security or food stamps. QE is now a creature of Washington, forever and ever, amen.
See: Taper Caper: Conspiracy Theory (intro)  and  Taper Caper: The Consequences of Institutionalizing QE.
Like Outside the Box? Sign up today and get each new issue delivered free to your inbox. It's your opportunity to get the news John Mauldin thinks matters most to your finances.
© 2013 Mauldin Economics. All Rights Reserved. Outside the Box is a free weekly economic e-letter by best-selling author and renowned financial expert, John Mauldin. You can learn more and get your free subscription by visiting www.MauldinEconomics.com.