Here at Inflation Data we believe that all other things being equal the primary cause of inflation is an increase in the money supply, i.e. "too much money chasing too few goods." But raising the minimum wage may cause other distortions that will have an effect on the economy so that one simple stroke of a pen can still have a major impact. ~Tim McMahon, editor
The Law of Unintended Consequences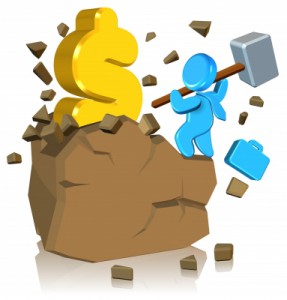 When the Government increases the minimum wage that employers need to pay to their employees, does it cause more problems later? The Government speaks of a raise as a good thing for the economy in order to boost sales (through more disposable income for the poor) and help low-income families pay bills. However, there are many aspects that are rolled into the raise in minimum wage that most people don't consider.
Legislating Wealth- The President seems to think that the government can legislate wealth. He believes that the Government is all powerful and with the stoke of a pen, he can make everyone rich. Why stop at $9/hour why not raise the minimum wage to $20/hour or even $100/hour? Hey why not instantly make everyone millionaires and say the minimum wage is $1 Million / hour? You might be saying that's crazy, that would never work, but the same economics apply, all that is different is the severity.
But recently the President Obama said, "Let's declare that in the wealthiest nation on Earth, no one who works full time should have to live in poverty, and raise the federal minimum wage to $9.00 an hour. This single step would raise the incomes of millions of working families."
Business Implications -Although some companies may have large enough profit margins to not raise prices, most businesses will not be able to afford increasing the minimum wage without raising the prices of products or services. Costs of goods will most surely have to rise in order to pay employees or alternatively companies who can not raise their prices will have to resort to layoffs or go out of business altogether.  If prices rise in order to help pay for increased wages, we will see inflation.
According to Minimum Wages vs Unemployment:
Much of the current problem with youth unemployment is due to the high minimum wage increases we've seen over the last five years. When the crisis hit in 2008, the minimum wage was $5.85. Lots of jobs got shaken up. Low-wage workers hit the road. When things settled down again, they went knocking on doors. The next year, they found that it was illegal to accept a wage less than $7.25. And we wonder why so many people are unemployed? It's not a mystery. The huge increase in the wage floor is not the whole reason, but it is a contributing factor.
So anyone who understands basic economics knows that the result of raising the minimum wage can only be:
Higher unemployment as companies scale back to reduce expenses.
Higher costs to consumers as companies raise prices to cover the higher wages they have to pay
Companies closing their doors because they can't scale back or raise prices.
So the result of an increased minimum wage is either higher inflation or higher unemployment both of which are components of the Misery Index thus increasing the minimum wage will most likely increase the overall misery of the country.
In their book Minimum Wages economists David Neumark and William Wascher offer a comprehensive overview of the evidence on the economic effects of minimum wages.  Based on their comprehensive reading of the evidence, Neumark and Wascher argue that minimum wages do not achieve the main goals set forth by their supporters. They reduce employment opportunities for less-skilled workers and tend to reduce
their earnings; they are not an effective means of reducing poverty; and they appear to have adverse longer-term effects on wages and earnings, in part by reducing the acquisition of human capital. The authors argue that policymakers should instead look for other tools to raise the wages of low-skill workers and to provide poor families with an acceptable standard of living.
See Also:
Recommended by Amazon:
Jason Miner an expert freelance writer loves writing articles on different categories. He is approaching different bloggers to recognize each other's efforts through www.blogcarnival.com. He can be contacted through e-mail at jasonminer8[at]gmail[dot]com.
Image courtesy of sdmania / FreeDigitalPhotos.net