In the following video, Professor Engelhardt says that if he were a "Super Villain" and wanted to destroy an economy, there are two ways that seem obvious to him. The first is "Central Planning", aka. "Socialism" and the Second is Hyperinflation. Since he would be a lazy super villain, he says Central Planning is "too much work", so he would choose hyperinflation.
He goes on to say that hyperinflation is difficult to define; even Economists like Murray Rothbard and Ludwig Von Mises used different definitions of plain inflation depending on the context. Generally, inflation was originally defined as an "increase in the money supply in excess of the increase in the demand for money". More recently, the term inflation has come to mean a "Big" increase in prices. But the difficulty comes in determining how big is "Big"?
If we can't even nail down the definition of inflation, how can we possibly nail down the meaning of hyperinflation… i.e. where does regular inflation end, and hyperinflation start?
Although it is difficult to say exactly… one definition of hyperinflation says that it begins at 50% PER MONTH. Personally, I would consider 50% PER YEAR close enough to be hyperinflation. In addition to the supply of and demand for money, there are a couple of other factors that influence whether hyperinflation occurs or not. The first is "Velocity of Money" i.e. how quickly money changes hands. The second is "Confidence in the Money", when people lose confidence in their currency, they tend to want to unload it quickly and are willing to accept less value for each dollar.
The Three Phases of Hyperinflation
Phase 1- An increase in the supply of money paired with "Deflationary Expectations"
Typically, inflation is initially localized in a "handful of goods", and people wonder why those goods are rising in price while other goods are still stable in price. So expectations are still that prices are stable and "those prices will come back down".
Phase 2- A further increase in the money supply paired with "Inflationary Expectations"
People realize that this inflation is not temporary, i.e. inflation is going to continue. People start spending faster because they no longer want to hold that money like they used to. Higher prices are starting to spread throughout the rest of the economy.
Phase 3- A flight to real values
People totally lose confidence in the currency and begin seeking out other stores of value. This means that the demand for money is effectively zero. No one wants to hold money, they would rather have virtually anything else. This raises the problem that if no one wants to hold money, who will be willing to accept it? Once no one wants the money, the economy begins to collapse, and it reverts to a barter system which isn't terribly efficient. So, if you want to destroy the economy, simply create hyperinflation by printing too much money.
Hyperinflation and the Destruction of Human Personality
One of the problems with hyperinflation is that it affects our habits of thought and action. Typically there are certain habits that lead to success, including:
Having a "goal orientation"
Choosing "delayed gratification"
A "self-interest" combined with a desire to "serve others well"
Desiring "thrift" i.e. don't waste scarce resources, including time.
Hyperinflation (and Central Planning) destroys these normal incentives, in hyperinflation, we no longer have the long-term perspective; instead, we become survival-oriented and self-centered. Professor Englehardt uses Venezuela as a current example of hyperinflation and its effects.
Recorded at the Mises Institute in Auburn, Alabama, on 28 July 2022.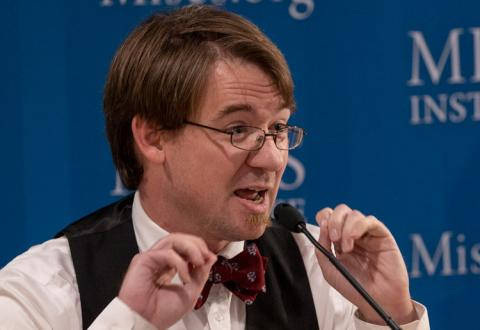 Author:
<a "https://inflationdata.com/articles/2008/02/24/what-is-core-inflation-and-why-doesnt-it-include-food-and-energy/">What is Core Inflation?
The video originally appeared here.