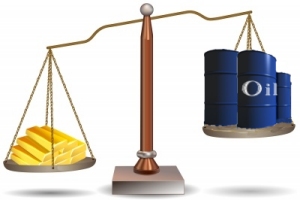 When we think of inflation we generally think of "Price Inflation" i.e. how much the price of a good or service has increased in dollars. However, price inflation is not "monolithic" that is, they don't all increase at exactly the same rate. Some prices will increase faster or more than others. So it is often useful to compare the price of one commodity to another to see the relative increases of each. Over the years we have compared a variety of different commodities including Gasoline vs. Oil and Oil vs. Bitcoin.  We've even done a 3-way comparison of  Gold vs. Dollar vs. Bitcoin. But since gold is historical money it is useful to use it as the standard yardstick.
So we have updated the charts in Comparing Oil vs. Gold and in Which is Over Priced? Oil or Gold? each article takes a slightly different look at the comparison between Gold and Oil prices.
Way back in 2011 we published an article by Jeff Clark entitled Another Way to Measure Inflation which goes into more depth about why we should consider using alternative measurements to get an accurate measure of inflation, as does the 2010 article by Vadim Pokhlebkin Why You Should Care About DJIA Priced in Gold.