The U.S. Bureau of Labor statistics released the May inflation data on June 16th. Annual inflation fell from 1.13% in April to 1.02% in May. The Consumer Price index crept up to 240.236 from 239.261. Monthly inflation was 0.41% (40% of the total annual inflation). The primary factor in the increase was energy costs,  gasoline was up 2.3% while fuel oil was up 6.2%. Many other items were actually down… airfares down -1.5%, used cars and trucks down -1.3%, food at home down -0.5%, of course physicians services and motor vehicle insurance were up 1% and 0.9% respectively, along with apparel which was up 0.8%.
Current Annual Inflation Chart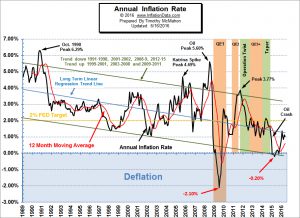 We've updated the current annual inflation chart which shows the Current Annual Inflation Rate starting in 1989. Typically monthly inflation from January through May is very positive at around +0.40% per month. May's 0.41% falls right in line with that. However, this year January and February were much lower than usual. January was 0.17% and February was only 0.08% so annual inflation remains low.
Gold is in the News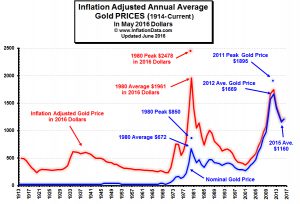 On December 17th 2015, with gold around $1050 all you heard on the discussion forums was how gold was a 'barbarous" relic that paid no interest and that only idiots would consider holding any of it in their portfolio.  My how times have changes in only 5 short months.
In January gold had a low of $1077 and a high of $1116.25. In February, it made a high of $1250.75 for a 12% gain in a single month, although it "only" ended the month at $1234.90. In March, it tacked on another $27 to the high but ended the month at only $1237.  April opened at $1213 and it looked like gold had run out of steam as it bounced around in the low $1200's. But then on the last trading day of the month gold went from $1256 to $1285.65. But May gave all the gains back ending the month at $1212.10. Then throughout June gold has worked its way steadily higher $1244, $1263, $1275, and then today it closed at $1310.75. So we thought it was about time to update our Inflation Adjusted Gold chart which shows the nominal gold price compared to the price as adjusted for inflation in May 2016 dollars. You might also enjoy Gold is Back in the LimeLight and Commodities Overtake Stocks and Bonds with Best Rally Since 2010!
One thing we've been saying for a while is that gold is not really an inflation hedge but more of a crisis hedge… so what is the rise in gold trying to tell us? Perhaps it is telling us that the markets are concerned about Brexit (the upcoming vote on Britain exiting the EU).
However if you simply look at the misery index numbers coming out of the Bureau of Labor Statistics (inflation plus unemployment) you will get the impression that all is right with the world and there is absolutely nothing wrong.
Moore Inflation Predictor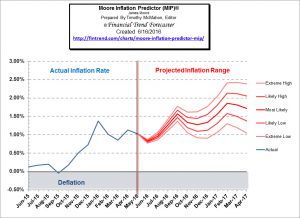 Our MIP was projecting a flat to down-move in inflation for May with extreme low of 0.98% and a "Likely Low" of 1.03% with May's inflation rate coming in at 1.02% the Moore Inflation Predictor© (MIP) was right on the nose forecasting the inflation rate. .  See what the MIP is projecting for next month …
Has oil seen the bottom? Where oil will be by Christmas 2016? Are lower oil prices a boon or bane for the economy? Will Electric Cars and Uber hurt or stimulate the economy? In an exclusive interview, Oilprice.com talked to award-winning economic commentator Mike "Mish" Shedlock about all this and more. See:  Mish on Oil, Lithium, Uber and More
Close to ninety percent of all traders lose money. The remaining ten percent somehow manage to either break even or even turn a profit — and more importantly, do it consistently. How do they do that? The 5 Fatal Flaws of Trading
May's Terrible Jobs Report
On June 3rd the U.S. Bureau of Labor Statistics released its "surprisingly weak" monthly Employment Report which the media is touting as "terrible".  According to the media "only 38,000 jobs were created" in the month of May. Although experts were predicting an increase two or three times as large.  Read More…
Left Brained?
The left brain-right brain theory began with the work of 1981 Nobel Prize winner Roger W. Sperry. Generally speaking, the left side of the brain tends to control many aspects of language, logic, learning and information processing. People who are left brain dominant tend to be more analytical in their thinking and typically perform well academically. If you are "left brained" here are some jobs you might consider…
When Money is Tight
Money problems cause stress in the home and they can lead to tension and even divorce if they continue too long. Don't ignore financial problems. Instead, adopt a proactive attitude that puts you in charge of your future. Learn more…
Avoid the "Money Pit" Syndrome
Back in 1986 Tom Hanks and Shelly Long starred in a movie called "The Money Pit". It begins when they buy a big, grand, dream house in the New York countryside. It is, of course, too good to be true, and before long they realize that all the repairs necessary might result in disaster. More…
Retirement Ready?
Retirement isn't a stage in life you can just jump into without preparation. It takes decades of preparation to save enough money to afford the life you want, and it also takes time to get your finances ready for the burden of a life without income. … [Continue reading]