Cost of Living Fish and Chips
Fish and chips still remains the favorite take away meal in the UK despite fierce competition. The exact origins are unknown but it has been established that chips arrived from France during the 18th Century. There was also mention of fried fish and bread in 'Oliver Twist' by Dickens, published in the 1830s. The Oxford English Dictionary claims the earliest usage of "chips" in this sense was in Charles Dickens' A Tale of Two Cities (published in 1859). Fish and chips became standard fare among the working classes in Great Britain due to
the efficiency of trawl fishing in the North Sea, and the development of railways which allowed fresh fish to be rapidly transported to the heavily populated areas from the ports. The modern fish-and-chip shop ("chippy" or "chipper" in modern British slang) originated in the United Kingdom, although outlets selling fried food occurred commonly throughout Europe. According to one story, fried-potato shops spreading south from Scotland merged with fried-fish shops spreading from southern England. Eventually they came together with the opening of the first fish and chip shop around 1860. Growth in the number of shops was rapid, peaking in the 1930s at around 35,000 shops in the UK.
Price increases
Fish and chips used to be thought of as cheap, as well as convenient, but sadly that is no longer the case.
That tasty portion that would have cost 25p in 1970 is now around £3.30 on average, although you can pay as little as £2.50 in some parts of the country. The worse price rises came in the 1970s, taking the average price of a portion of fish and chips to 83p by 1980. Inflation has remained low during the 21st century, but fish and chips prices are still rising.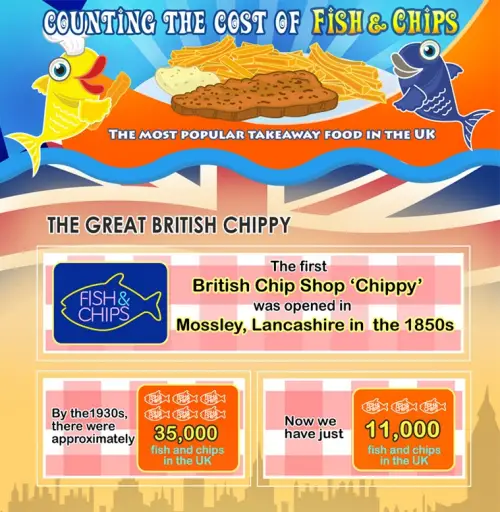 Fish and chips is popular in the United Kingdom, Ireland, Australia, New Zealand, South Africa, Canada and regions of the United States. It consists of deep-fried battered fish served with deep-fried potato wedges (i.e. chips or fries). As a staple in the U.K., chips were one of the few foods that weren't rationed during WW II.
The number of fish and chip shops has declined over the years as other take-away shops have gained in popularity and currently there are just 11,000 fish and chip shops in the U.K.
Cost of Living Increases
The cost of a portion of fish and chips more than tripled from 25p in 1970 to 83p in 1980. From there it doubled to £1.68 in the 1990's. From the 1990's to the 2000's  the cost of fish and chips "only" increased by 45% to £2.43. And the average price of a single serving of Fish and Chips in the U.K. is currently £3.30 a 35.8% increase in price over the last decade. However, in London the average cost of a portion of fish and chips is £5.00.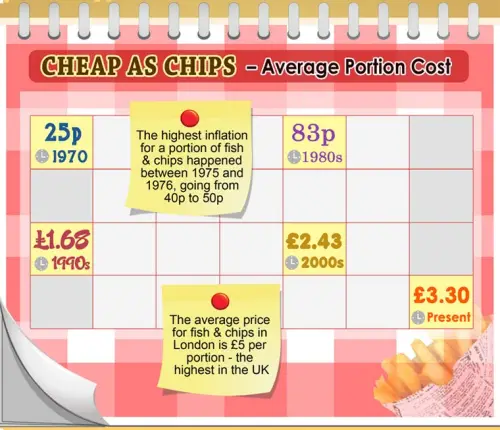 The most popular fish for fish and chips is Cod, followed by Haddock and then Sake or Huss.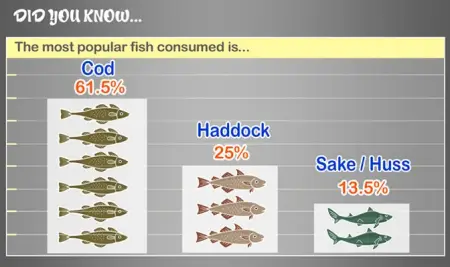 The British generally prefer salt and vinegar on their fish and chips, while Americans prefer Tomato Ketchup and people on the continent tend to prefer Mayonnaise.
Thanks to Bainst and Ernst for the infographic.