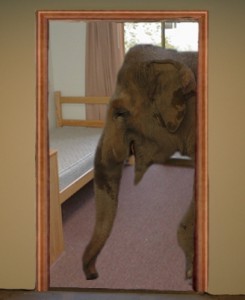 We've had almost a Trillion dollars in "stimulus" and/or "Quantitative Easing" or whatever you want to call it and as of the end of August 2010 we still only have 1.15% annual inflation…
Down from 1.24% last month.  And the trend has been steadily decreasing for all of 2010.
Back in 2009 we had a period of deflation bottoming at -2.10% in July of 2009 and the stimulus kicked the inflation rate from its deflationary moorings all the way up to 2.72% in December of 2009. But as we can see from the chart below the effect didn't last long… and the inflation rate has steadily declined for all of 2010 so far.  In the light of all that stimulus, the biggest credit bubble in history is still shrinking.  So the obvious "elephant in the room" is, What is keeping inflation at bay? And how low will it go?   ~ editor
 Deflation: The Trend That's Become Too Obvious To Ignore

By Elliott Wave International

As the biggest credit bubble in history continues to shrink, consumer prices have stayed flat over the past several months,
meaning there is no sign of inflation to come, despite growing commitments from the U.S. government.
So what's keeping inflation at bay, given all the stimulus money promised?
The answer: Deflation — an overwhelming urge for consumers to liquidate their assets for cash. And this new economic phase is finally becoming too obvious to ignore, as explained in recent commentary from the world's largest technical analysis firm.
The economy is moving into a critical new phase, an outright deflation in which 'prices fall because people expect falling prices.' Obviously, this implies an element of recognition, as efforts to protect against indebtedness and falling prices contribute to further declines. We can tell deflation is entering a new stage because of the language and ideas that financial observers now use to describe it.
Here are a few recent comments about the new economic reality:
"[New Jersey Governor] Christie spelled out the details of his proposal Tuesday. They include: repealing an increase in benefits approved years ago; eliminating automatic cost-of-living adjustments; raising the retirement age to 65 from 60 in many cases; reducing pension payouts for many future retirees; and requiring some employees to contribute more to their pensions." — Associated Press (Sept. 15)
"U.S. Home Prices Face Three-Year Drop as Inventory Surge Looms" — Bloomberg (Sept. 15)
"Atlanta Awash in Empty Offices Struggles to Recover From Building Binge" — Bloomberg (Sept. 14)
"The world economy faces a long, hard slog toward recovery and could slide into deflation and financial instability if leaders fail to deliver on promises of reform." — Reuters (Sept. 10)
"Deflation seems to have the upper hand lately in the debate among investors about inflation versus deflation." — Marketwatch (Sept. 8th)
"With the release of the August sales figures, one thing is clear for car shoppers — it's a buyer's market." — Edmunds (Sept. 2)
"20 Funds to Guard Against Deflation" — Smartmoney (Aug. 29)
"Dividend-Yield Signal Screams Deflation" — Forbes (Aug. 25)
The word "deflation" also started appearing more in the financial media around 2002, but Robert Prechter, president of technical analysis firm Elliott Wave International and author of the 2002 New York Times best-seller Conquer the Crash, added in the updated 2009 edition of his book that the deflation references back then were in an entirely different context:
The rarely used word deflation has become fashionable in financial discussion. … It is fashionable, however, not to predict its occurrence but primarily to dismiss the idea that it has any serious likelihood of occurring. The president of the Federal Reserve Bank of Dallas said in May [2004] that there is 'maybe one chance out of four' that deflation will occur."
— Conquer the Crash, 2nd edition (2009)
And Prechter says the opinion from the Federal Reserve Bank of Dallas was not an isolated outlook at the time. Here's another quote from around the same time:
Not one economist [of 67 surveyed] said it was 'very likely' the economy would slip into deflation, and only 6% said it was 'somewhat likely.' About 95% said deflation was 'not very likely' to happen." — Barron's (2003)
In hindsight, we know that economists — in the aggregate — were dead wrong about their deflation predictions.
As we saw above, references to "deflation" are increasing now — because it's obvious.
So if economists were unable — or worse, unwilling — to warn you in advance about the threat of deflation a few years ago, what are they not warning you about now?
This article was syndicated by Elliott Wave International and was originally published under the headline The "Outright Deflation" Economy Enters A "Critical New Phase". EWI is the world's largest market forecasting firm. Its staff of full-time analysts led by Chartered Market Technician Robert Prechter provides 24-hour-a-day market analysis to institutional and private investors around the world.
Use our Inflation Calculator to calculate the U.S. inflation rate between any two dates.
See current Unemployment Rates