Deflationary Depression: Ultimate Status Symbol
The Biggest House? No. The Most Expensive Car? Try Again.
By Robert Jay
Ostentatious display defined the "Gilded Age" in the latter part of the 19th century. Most of the upper class in that period believed that if you had a big bank account, you should make sure everyone knew it.   A century later — during the bull market of the 1980s-1990s — "McMansions" with BMWs in the garage became more common. Pulling out the plastic and enjoying instant gratification became pervasive.
In most decades of the past century, families had to save for big ticket items, perhaps even save all year to ensure holiday presents under the tree. To take the whole family out to eat was a special treat.   "We are at a point where we have to have fiscal discipline and maybe go back to the days where you saved up to buy a washing machine, you saved up three to four years to buy a car. We will probably move in that direction as a nation." Vanguard founder John Bogle (June 22, TheStreet.com interview)   What kind of financial era are we heading into now? Will it be similar to what followed this?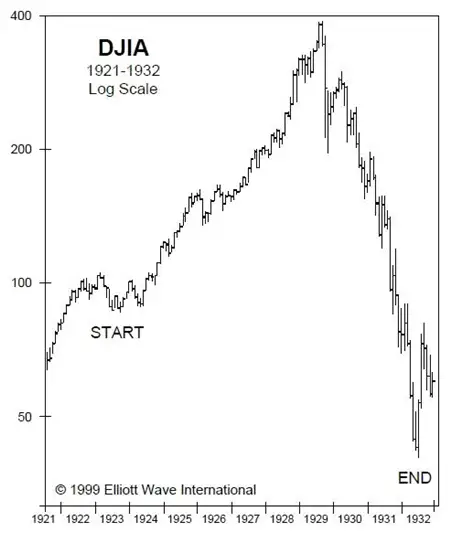 The 1929 crash began the Great Depression and severe economic deflation. The turn in psychology led to profoundly more frugal habits for millions of people in the years that followed.
The difference between the 1930s and today is that the credit expansion of this generation has been far greater. Does that mean a deflation to come that's even more severe than in the '30s?
". . . I'm convinced that deflation and depression are already underway and about to get much, much worse. You can avoid the impact of both trends if you are prepared, and you can even profit from these trends if you are properly positioned."
Robert Prechter, Elliott Wave Theorist, June 2010
How can you prepare?
One part of the answer points to the Ultimate Status Symbol during a deflationary depression: CASH.
When others are cash-poor and in-debt, when lenders can't collect, when prices are falling — people with cash and cash equivalents will have what everyone wants. You'll be financially prepared to meet and overcome deflation.
 How about gold compared to cash during a deflationary depression? Robert Prechter addresses that very question in his June, Elliott Wave Theorist — the June issue gives a clear answer to the gold vs. cash question. PLUS, Prechter presents his latest thinking on deflation.  Also enjoy the July-August Theorist — which is sure to become a classic. Click here now for your risk-free look.
.