Deflationary Forces-
On March 4th 2009 the New York Times ran an article entitled, "Theater Chain Begins Recession Special: $1 Popcorn and Sodas" talking about Carmike Cinemas instituting their own "stimulus plan".
In an effort to help flagging weekday sales the theater chain is cutting those outrageous concession stand prices.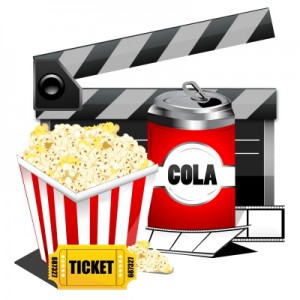 Normally during tough times people will cut back on discretionary spending perhaps opting for a night at home with Netflix rather than a night out at the theater.  And this is what seems to be happening during weekday nights.
However, during  weekends quite the opposite is happening. It seems that receipts on weekends are actually up 17% so far in 2009 over the same period in 2008 (Carmike isn't cutting concession prices on weekends).
So from an economic standpoint what does that mean? 
Obviously, there is still some discretionary income still available… perhaps among teenagers who still want to have a weekend date.
Or maybe couples are going to the movies instead of more expensive activities like clubs etc.
Historically during recessions when funds are tight diversionary escapes are still well attended,  perhaps in an effort to forget the misery for a little while.
But at the same time they might forego the concession stand to reduce the overall cost of the outing, while still enjoying the movie.
But back to Carmike…  to boost flagging sales during the week Carmike has reduced concession stand prices for  16-ounce sodas and 46 ounce popcorns to only $1 each.
As anyone who has visited a theater lately knows these are usually just as expensive as the tickets themselves.  In fact, concession stand sales are the primary profit center for most theaters. And for that reason according to the NY Times article- "Drastic cuts in concession prices are rare because the snack bar is where movie theater companies make the most profit".
Obviously, it is unprofitable to open the theater and pay for heat or A/C, employee salaries etc and only have one person sitting in the seats.
So here we see a perfect example of deflation in action.  Theaters are willing to cut prices in an effort to get more people in on weekdays so they can cover their fixed costs of keeping the doors open.
As deflationary forces take hold expect to see more price cuts like these.
According to Dale Hurst, Carmike's director of marketing. "prices like these have not been seen since the 1970s."
See Also:
More Resources from Amazon:
Image courtesy of digitalart / FreeDigitalPhotos.net