Falling Prices:
A recent article in MoneyNews from NewsMax.com states "Consumer Prices in Free Fall– Consumer prices have not been this low since 1949".
The article went on to say "That's the conclusion of the US Labor Department, which reported Thursday that, thanks to lower gas prices, the Consumer Price Index fell by 0.6% in November."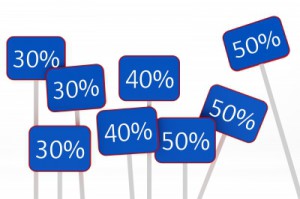 First of all the index actually declined by .8%, it was .6% on a "Seasonally adjusted basis" and secondly nowhere in the report released by the Bureau of Labor Statistics (part of the US Labor Department) did they come to any conclusions about anything let alone "free falling" prices.
What they did state is that the majority of the decline was related to the decline in gasoline prices. Duh! Anybody who has bought gas can tell you that prices have fallen from around $3 per gallon to around $2 over the last six weeks. Which by my last calculation was about 33%.
Does this mean that "consumer prices are in free fall"? Hardly! Yes we had the single largest drop in the inflation rate since 1949 but that followed one of the largest one month rises in the last 20 years (1.22% in September). If you average the last 3 months together you get a .62% monthly inflation rate (or an annual inflation rate of over 7%). No room for rejoicing there. Also if Gasoline fell 33% and the index "only" fell by 8% most other "consumer prices" must have actually risen. And that is exactly what the "core inflation rate" shows. Core prices were actually up .2%.
A few months ago, when gasoline prices were up drastically several people asked me why the media was spouting "core prices" when the real price was up so much. Well the answer is that "core" prices are much less volatile. In unusual times like these where we have rapidly rising and falling food or energy prices you may get a better picture by looking at the more stable "core" rate.
So why is the media rejoicing so loudly over the recent "free fall"? Simple, it is pure and simple hype! Anytime you can say it is the first time since 1949 that something has happened it catches attention. But are we in any danger of prices actually being lower this year than last year (deflation)?
 Not hardly. The annual inflation rate is still at 3.46% (much better than last month's 4.35%) but still almost twice as high as two years ago when we were at 1.77%. A decline in the inflation rate from 4.35% to 3.46% is technically called "disinflation" until the annual inflation rate falls below zero at which point it is called deflation.
What is this about consumer prices being low anyway? Prices aren't low they just fell from an extremely elevated level to a less high level. Declining and being low are two entirely different things. The consumer price index in 1949 was 23.8 it is now almost 200. The index stands at 197.6 to be exact. That means that something that cost 23.8¢ in 1949 now costs $1.97
So, prices are not at 1949 levels. The one month rate of decrease is the same as the decrease in 1949 which is not the same thing at all.
It might be helpful to look at the situation in 1949. The index fell from 24.1 in December 1948 to a low of 23.5 in February 1950. This decrease followed the post war double digit rates of inflation in 1946- early 1948. So it was simply a correction to that inflationary excess. By July of 1950 the index was back to 24.1 and inflation was once again the rule of the day. By the end of 1951 the annual inflation rate was 7.88%.
So what does that mean for us today? Basically, rapid price decreases have traditionally been short lived and haven't affected the longer term trend.
The FED seems to agree that inflation is not under control and to prove it they raised the Federal Funds rate again… another ¼%.
Just a few months ago, everyone was panicking as gas prices were skyrocketing… now they are rejoicing that they are falling. Neither is the right response. Inflation is steadily climbing and long term it may result in problems. But we need to be level-headed and look at what is really happening. We had a short term spike in Oil prices due to two record breaking hurricanes back to back that hampered oil production and distribution.
None of this has affected the underlying trend in inflation which is up. Look at our Annual Inflation Rate Chart and you will see that this month's decline simply brings the inflation rate back into the upward channel that it started back in January 2002. As a matter of fact, annual rates could fall all the way down to 2% and the channel would still be intact.
I do not expect that to happen, but we may see the rates a little lower than normal over the next few months, to counteract the recent rise and bring the system back into equilibrium. All of this is short term "noise" and doesn't affect the long term trend one bit. So when you see noise like this don't panic, simply remember that what is really important is the longer term trend.
Which brings us the question, "Where we will be at the end of the decade?" Will the 2000's end like the 1970's with a sharp spike in inflation and rates in the high teens? See Our article: Inflation similarities between the 2000s and the 1970s
See Also:
More Resources from Amazon: