The Current US Consumer Price Index - All Urban Consumers (CPI-U) is compiled by the Bureau of Labor Statistics and
released monthly
and is based upon a 1982-1984 base of 100. An Index of 185 indicates 85% inflation since 1984 (actually the average of 1982-1984). Since this is an index it only tells you the total inflation since the base year. See the
Historical CPI-U
for the Consumer Price Index on a monthly basis since
1913
. An index of 9.8 in 1913 indicates that prices multiplied over ten times from 1913 to 1982. It doubled again from 1982 to 2006 when the index topped 200. By 2014 the Consumer Price Index topped 233.
In 2007 the Bureau of Labor Statistics began publishing the index to three decimal places.
For more information see "What is the Difference between Inflation and the Consumer Price Index?"
We can calculate the Current Annual Inflation Rate  by determining the rate of change for exactly one year and expressing it as a percent. This is done by taking the current CPI-U Index and subtracting the Consumer Price index from a year ago and dividing the result by the Consumer Price index from a year ago. See How to Calculate the Inflation Rate for more information. Or you may use our proprietary Inflation Calculator.
Our Historical Inflation Data is calculated to two decimal places while the government only calculates to one decimal place. Our data provides a "finer" view. The government may say the rate for two consecutive months was 3.2% while our data may show it as 3.15% and 3.24% respectively.
Our Projected Inflation Rate is our projection of the future direction and magnitude of the inflation rate based on our proprietary Moore Inflation Predictor©.
Subscribe to our FREE monthly E-zine and we will keep you up-to-date on what is happening in the area of inflation, interest rates and market trends.
Other Helpful Links:
For the complete database text and tables of the detailed consumer price index for all Urban Consumers see CPI-U U.S. City average.
Features
Articles
Calculators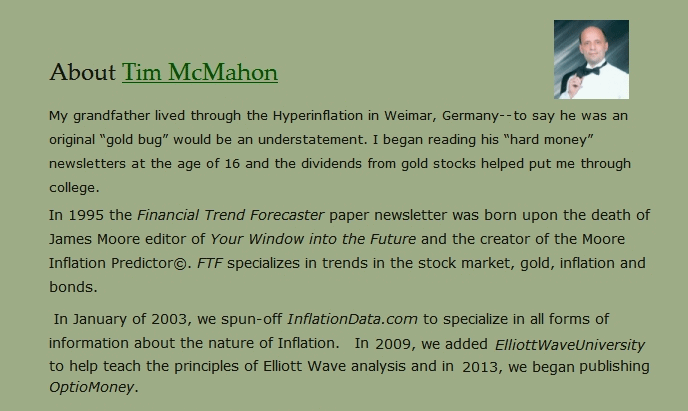 Connect with Tim on
Use our custom search to find more articles like this