Inflation Calculators
We've assembled a variety of inflation calculators to suit your every need whether you want to calculate inflation by specific month or just by year. We even have developed a fun "steam punk" inflation calculator that goes back to 1774 and even estimates future inflation.
Of course we also provide the official  U.S. Bureau of Labor Statistics Inflation calculator as well.  Plus a U.K. Inflation calculator (price converter based on year).
We have also updated our Cumulative Inflation Calculator which calculates inflation down to specific months giving it a cool new look and the ability to not only provide the cumulative inflation rate but also show changes in purchasing power.
Cumulative Inflation Calculator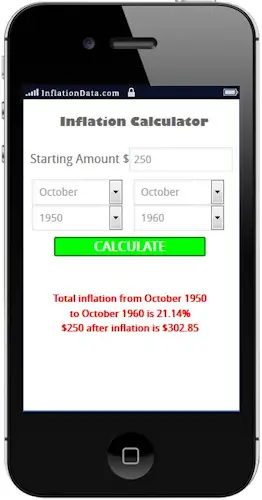 Switching from the archaic steampunk inflation calculator to the modern "Smartphone" design we have our updated Cumulative Inflation Calculator which allows you to calculate inflation by month and year rather than simply using a yearly average. The results provide a total cumulative inflation rate from the start date to the end date and an inflation adjusted price based on the starting value you provide.
Inflation calculations are based strictly on the U.S. Bureau of Labor statistics CPI data and are therefore limited to the dates from 1913 - Present.
U.K. Inflation Calculator (Pounds)
The U.K. Inflation Calculator works much like the official BLS inflation calculator in that it only calculates changes in price based on the average annual index and doesn't provide a cumulative inflation total.
The U.K. inflation calculator uses the U.K. Retail Prices Index and is capable of calculating inflation all the way back to 1751. It calculates a price comparison between  different dates in Pounds, taking into consideration the U.K. inflation rate rather than the U.S. Dollar inflation rate.
So for instance, if something cost £100 in 1900 it would cost £11,000 in 2013. To use the Historical Price Converter​ simply enter a value and use the pull-down menus to choose a starting and ending date and the converter will tell you the value on the other date. [Read More...]
Cost of Living Calculator
The cost of maintaining a certain lifestyle varies from state to state and even from city to city within a state. Our cost of living calculator can help you compare the cost of living between two cities. It can also help you compare average salaries based on job title between two places.
Inflation Adjusted Prices
Historical Gas Comparison Chart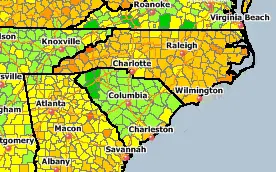 The chart below shows the Nationwide average price of gasoline over the last year (12 months) compared to the gas price in Dallas and the price in Los Angeles. You can change the time period to see anywhere from 1 month to 6 years. Simply select the … [Read More...]
Cost of Gas- Current Gas Prices Nationwide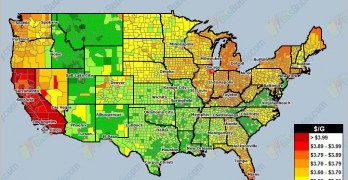 The following chart is updated throughout the day and shows the current average gas price by county based on prices reported by individuals around the country. You can zoom in and drag the map around to get a better look at your local gas prices. … [Read More...]