Confusion Continues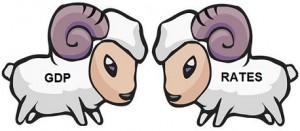 The bad news is markets tend to get jittery when the Fed is preparing for a new interest rate cycle. The good news is the primary reason the Fed is contemplating raising interest rates is a strengthening U.S. economy. The question in the short run is:
Will the economy be strong enough to offset the negative impact of higher rates?
The odds of the answer being "yes" increased Thursday. From Reuters:
Gross domestic product expanded at a 4.2 percent annual rate instead of the previously reported 4.0 percent pace, the Commerce Department said on Thursday. Both business spending and exports were revised higher, while a buildup in business inventories was smaller than previously estimated – a mix of growth that provides a stronger underpinning for the remainder of the year.
Investment Implications – The Weight Of The Evidence
As of Thursday's close, the S&P 500 was up 8 points for the week. Therefore, despite some hesitation near the overly-talked-about S&P 500 level of 2000, the bigger picture has improved this week. We continue to hold a mix of U.S. stocks (SPY), leading sectors, such as healthcare (XLV), and a relatively small complimentary stake in bonds (TLT). Friday's economic calendar tells us to keep an open mind about how stocks close out the week:
European Inflation Data
Personal Income and Outlays
Chicago PMI
Consumer Sentiment
Friday's Sleeper?
Since it could impact the European Central Bank's next move, we should not overlook Friday morning's report on European prices. From MarketWatch:
The euro-zone consumer-price index due Friday morning is not only expected to come in at a multi-year low, but could also hold the key for future monetary easing from the European Central Bank. ECB President Mario Draghi already hinted last Friday that full-on asset purchases could be in store if the euro-zone doesn't move out of the low-inflation danger zone.
Levels A, B, C, and D on the chart of the S&P 500 below may attract buyers if Friday's data brings out the bears.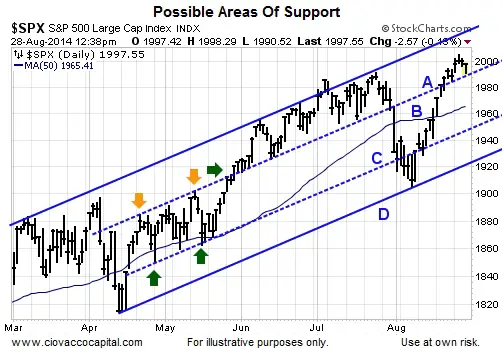 This article originally appeared here.