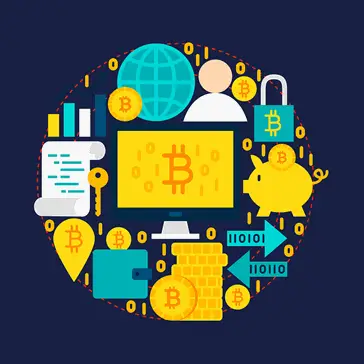 Despite bouts of volatility that tend to scare away risk-averse investors, cryptocurrency is more popular than ever, with millennials hoping to cash in on its explosive growth. While legacy coins such as Bitcoin and Ethereum are still the most popular currencies in the world of crypto, other emerging altcoins are gaining momentum and popularity. If you have been living under a rock and have no idea where to get started in your crypto journey, keep reading to find four steps to get started:
1.     Pay Attention to What You're Investing In
In addition to having your finances in order, when investing in crypto, be mindful that, unlike stocks, most cryptocurrencies are not backed by any tangible assets. Bitcoin, for instance, isn't backed by an asset, but rather, investors rely on the fact that other people consider it valuable. Should everyone decide that it was worthless or, some detrimental law be passed, Bitcoin could become worthless. Gold, on the other hand, has a variety of physical uses for everything from industry to jewelry. Stocks represent partial ownership of the company's assets, but all you have with Crypto is a few randomly arranged electrons.
Currently, crypto-investors are betting on the "greater fool theory" hoping someone else will pay more for the currency than they did for it. It essentially means that they rely on a bullish market and investor confidence. Just as you should study a company prospectus before buying stocks, you should know your cryptocurrencies before investing.
2.     Choose a Crypto Exchange Carefully
You cannot simply purchase cryptocurrency over the counter or with an investment firm. Rather, the sale and purchase of crypto requires your presence on a crypto exchange platform.  In 2020, there were several Crypto exchange hacks, and they aren't covered by FDIC insurance like banks or SiPC like brokerages, so care must be taken when choosing which one to use. While selecting a platform for yourself, consider the online exchange's user interface, service authenticity, and security. Platforms such as Cryptex feature cryptocurrency wallets, 24/7 customer service, five-factor authentication, and account protection. While choosing a platform, be sure to take note of all supported tokens, transaction fees, and user experience on it.
3.     Be Mindful of Volatile Currencies
Many cryptocurrencies are highly volatile in terms of their asset value and may or may not repeat past successes. When it comes to volatile crypto-currencies, they should remain the domain of sophisticated and seasoned investors who have a grip on the crypto-currency market and can instantaneously trade in case of a market emergency. Beginners should focus on less volatile cryptocurrencies until they understand how a buy-low-sell-high trade works.
4.     Manage and Set Your Risk Boundaries
All good investors and speculators have risk management plan to prevent them from being too pessimistic or too optimistic in their approach, and hence mitigate losses. A good idea is to have strict rules for when to buy and sell a coin, i.e. a stop-loss plan for selling a currency when its value has fallen by 20 percent. And you should never speculate on cryptocurrencies with money that you can't afford to lose.
Conclusion
While the cryptocurrency market has established itself globally in terms of earning potential and capital gains, many seasoned financial investors still avoid the world of crypto. The above-mentioned tips are an excellent starting point for crypto beginners to understand how to trade and will certainly assist them in starting their crypto journey.
More Crypto Articles:
Other Articles you might like: