Over the years we have discussed Hyperinflation a number of times. We've explained that, "Hyperinflation is an extremely rapid period of inflation, usually caused by a rapid increase in the money supply. Usually due to unrestrained printing of fiat currency."
Hyperinflation has been recorded as far back as Egypt 276 AD and is usually caused due to some sort of government mismanagement issue. Typically hyperinflation gets progressively worse until the curve goes hyperbolic and then something happens to end the progression.
See  What is Hyperinflation? for more information.
Recently Commodity.com produced an Infographic of 5 currencies that were hit by hyperinflation so with their permission we thought we would expound on their infographic a bit.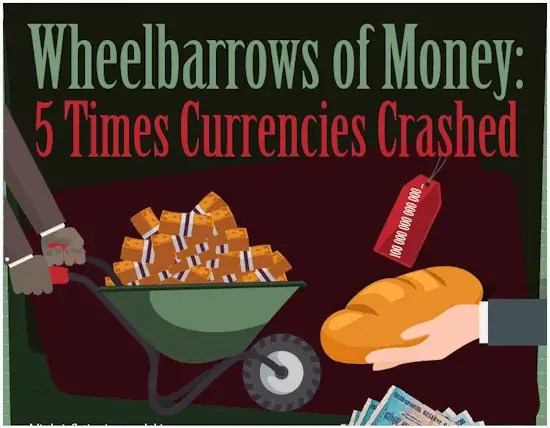 Governments say, "a little inflation is a good thing" they target 2% inflation and panic when it gets below that because inflation tends to make people think they are richer than they actually are so they spend more freely than they would if they knew the actual state of their money. Another incentive for Governments to favor inflation is that it favors debtors over lenders by allowing them to repay debts with "cheaper dollars" and the government is the biggest debtor.
However, too much inflation can wreak havoc on a society and hyperinflation can make it almost impossible to carry on any normal form of commerce. It is impossible to run a business when you don't know how much Labor and materials will cost next month or even tomorrow.
A perfect current example of a country suffering  Venezuela's Hyperinflation which has been going on for several years now. The government places price controls on certain "necessities" like toilet paper and before you know it, there is none available because suppliers refuse to sell at that price. So once again the "beneficent" government steps in and forces the mean Capitalist companies to make and sell toilet paper which they do until they are forced to declare bankruptcy or are taken over by the government.
Greece
Greece has had its problems recently with a banking crisis and other financial problems while under the European Union but back in the 1940's it suffered a hyperinflation.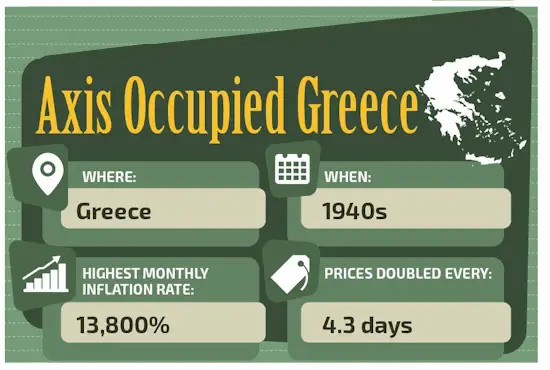 What Caused Greece's Hyperinflation?
Throughout World War II Greece was occupied by the "Axis Powers" i.e. Germany, Italy, and Japan. During this period the national income of Greece was reduced by 70%, combined with wartie ravages, a lack of raw materials and foreign trade combined with looting of the Greek Treasury by by the Nazis resulted in a massive hyperinflation due primarily to the fact that Greece's National Bank had no choice than to simply print money to cover expenses.
Life Under Hyperinflation in Greece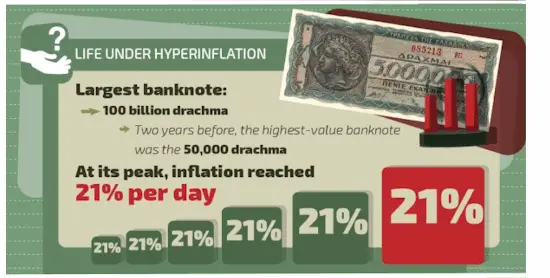 Eventually in all hyperinflations the denominations of the banknotes increases in size since 1's 10's and 100's won't buy anything anymore. At the peak the government in Greece was printing 100 Billion Drachma notes and inflation was at 21% per day.
How it Ended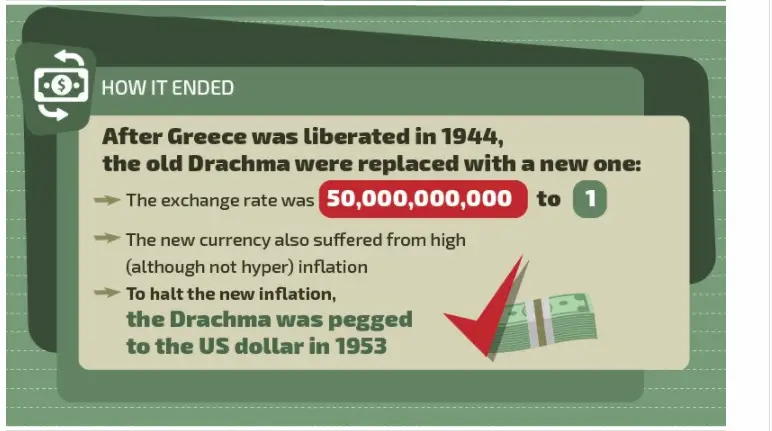 Hyperinflation can't continue forever and eventually something causes the insanity to stop. In this case, the Nazi's were no longer siphoning off vast sums and a "New Drachma" was issued. The exchange rate was set at 50,000,000,000 to 1. Unfortunately, the government still didn't have much in the way of revenue and so even the new drachma suffered under high inflation. In 1953 the power to print new money was essentially taken from the Greek bank as the Drachma was 'pegged' to the U.S. Dollar (i.e. a fixed exchange rate).
Hyperinflation in Weimar Germany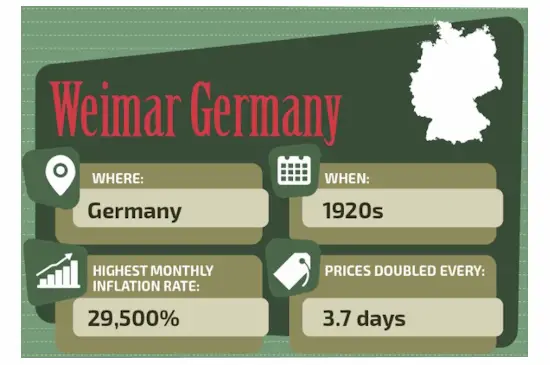 Just twenty years before Greece's hyperinflation, Germany had experienced their own hyperinflation. In the wake of World War I and pressure from workers to become a Socialist state "Weimar Germany" is formed. Weimar was not its official name but it is so called because from February 6, 1919 to August 11 ,1919 its constitution was hammered out and ratified at Weimar, Germany . And then a few short years after the constitution was signed the hyperinflation began.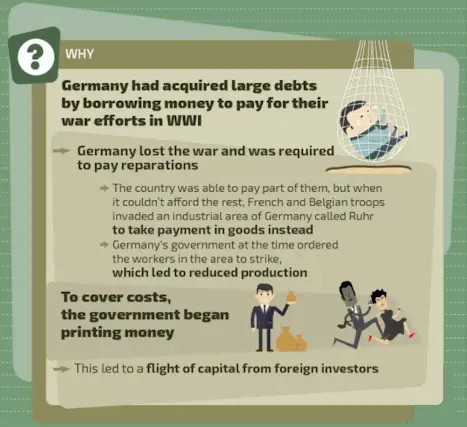 What Caused Weimar Germany's Hyperinflation?
War is expensive and Germany had borrowed heavily to finance World War 1 which it expected to be able to repay on the backs of its captured neighbors. However, since it lost the war it was saddled with heavy (some say unreasonable) war reparations. When it was unable to pay, France and Belgium "foreclosed" on the most productive chunk of Germany the Ruhr valley. German workers went on strike shutting the Ruhr down and the government decided to simply print money to make the payments. Reduced productive capacity combined with an increased money supply led to Germany's quintessential hyperinflation.
Life Under Hyperinflation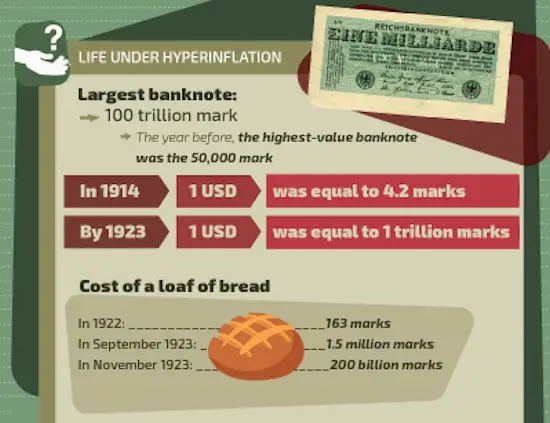 During the hyperinflation workers were often paid twice a day wives would wait outside and money would be dropped out windows, so they could rush out and buy things before the prices went up. Paper currency was burned for heat because the paper was so worthless. Money was used for wallpaper. In 1914 a dollar would get you 4.2 Reichsmarks.   By  1923 a Dollar would buy a Trillion Marks. In one year the price of a loaf of bread went from 163 marks to 200 billion marks. By the end of 1923, over two hundred factories were working full-time to produce enough paper to print the money.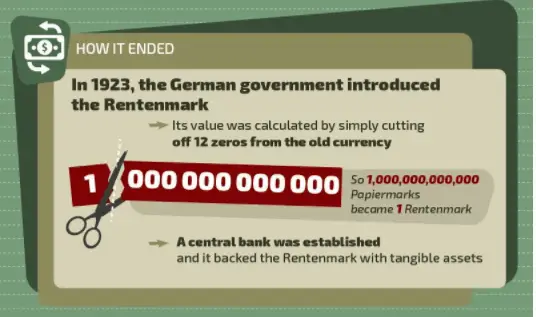 How it Ended
On 15 November 1923, a new currency, the Rentenmark, was introduced at the rate of one trillion (1,000,000,000,000) Papiermark for one Rentenmark, an action known as redenomination. At that time, one U.S. dollar was equal to 4.2 Rentenmark. Reparation payments were resumed, and the Ruhr was returned to Germany under the Locarno Treaties, which defined the borders between Germany, France, and Belgium.
Hyperinflation in Hungary
During about the same time as Greece was suffering hyperinflation Hungary was also suffering. This was on top of Hungary suffering a previous hyperinflation from 1919-1924 where Inflation reached 98% per month in 1922.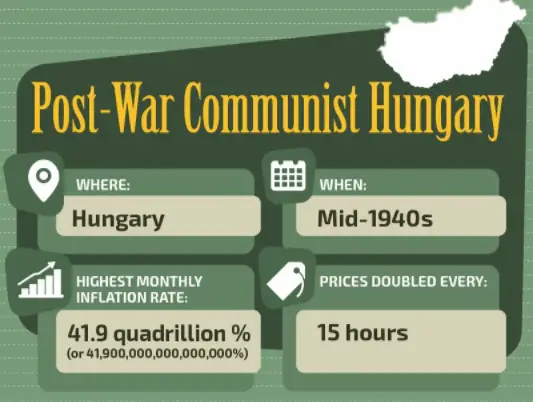 The WWII era saw hyperinflation among other countries as well. The Philippines 1942-1944 Conquering Japanese army issued fiat currency which rapidly became worthless and China 1947-1949 Total hyperinflation 15,000,000,000,000,000,000 to 1.
What Caused Hungary's Hyperinflation?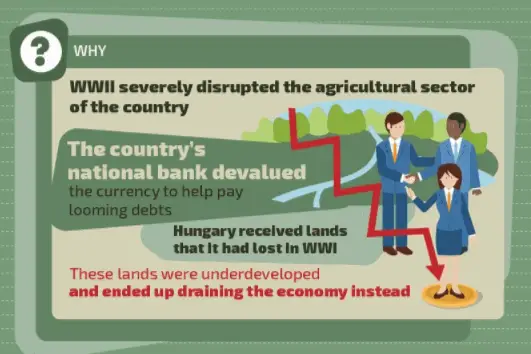 Much of the agriculture of of Hungary was destroyed during the war and to make matters worse Hungary was awarded lands that they had lost during WW 1. Unfortunately, these lands were also devastated so rather than help they simple added to the strain the Hungarian government was under. In response the national bank devalued the currency in an effort to pay the country's debts.
Life Under Hyperinflation in Hungary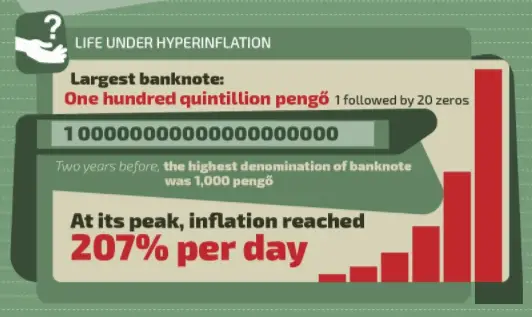 Hungary ended up issuing One Hundred Quintillion banknotes i.e. 1 followed by 20 zeros with inflation reaching 207% per day.
How it Ended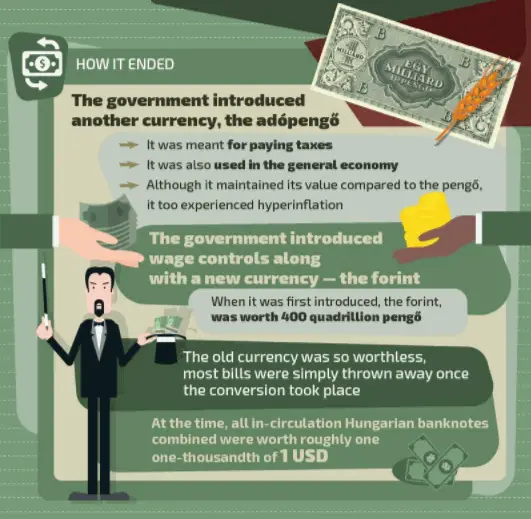 The Hungarian economy could only be stabilized by the introduction of a new currency, and therefore, on 1 August 1946, the forint was reintroduced at a rate of 400 000 000 000 000 000 000 000 000 000 (400 octillion) = 4×1029 pengő, dropping 29 zeros from the old currency. The old currency was basically so worthless that it was simply thrown away.
Hyperinflation in Yugoslavia
More recently, Yugoslavia suffered a massive hyperinflation in the early 1990's with inflation reaching 313,000,000% in a single month and prices doubling every 1.4 days.
What Caused Yugoslavia's Hyperinflation?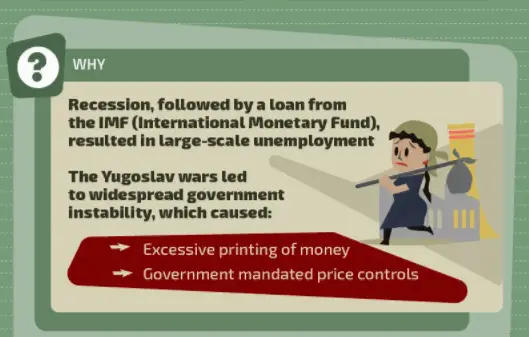 The Yugoslav government borrowed heavily from the International Monetary fund but was economically unable to sustain itself. It's government resorted to massive money printing and mandated price controls.
Life Under Hyperinflation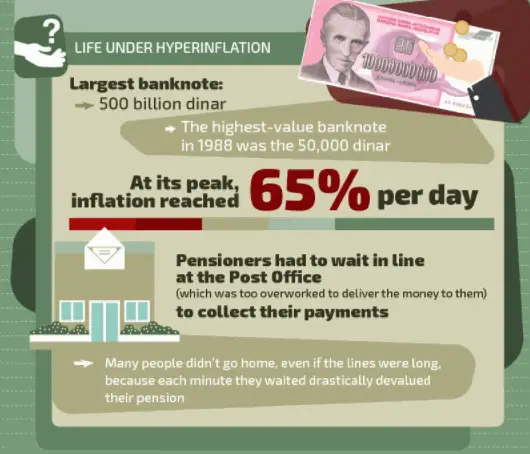 The highest value banknote issued was the 50,000 dinar and at its peak inflation reached 65% per day. Pensioners waited at the Post Office to receive their pensions so they could receive them as quickly as possible because every moment's delay meant less purchasing power.
How it Ended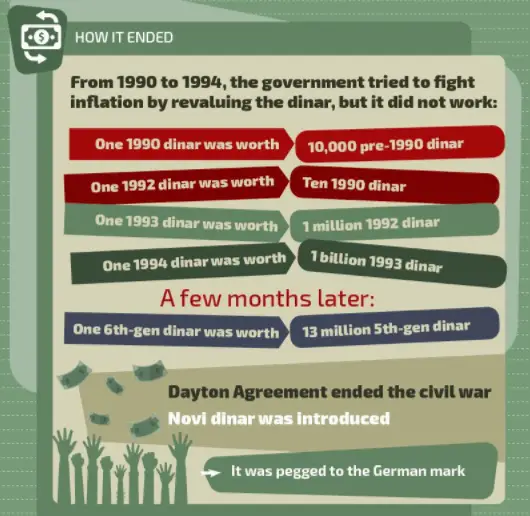 Unlike other hyperinflations, Yugoslavia didn't just continue printing ever larger bills. Instead they would issue a "New" version of the Dinar which was supposedly worth multiples of the previous Dinar. So for instance, the 1990 dinar was worth 10,000 pre-1990 dinars. In 1992 they only issued an exchange of 10 to 1 so things appeared to be getting better but by 1993 they were worse again and the exchange was at 1 million to 1. Finally, when the war was ended a Novi-Dinar was introduced which was pegged to the German Mark (which ironically was considered one of the most stable currencies of the time) thus limiting the number of Novi-dinars that could be printed and ending the hyperinflation.
Zimbabwe Hyperinflation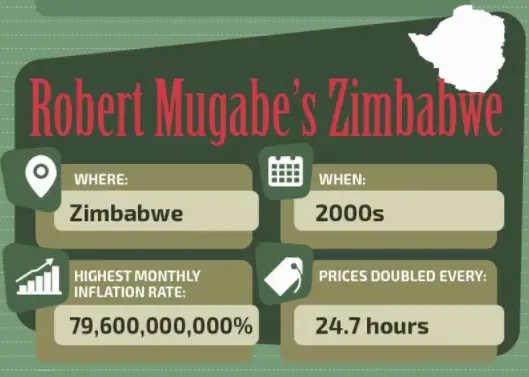 Hyperinflation is not just a thing of the 20th century. The 21st century has already had its share of hyperinflations as well. In the early 2000's Zimbabwe experienced hyperinflation when its economy imploded.
What Caused Zimbabwe's Hyperinflation?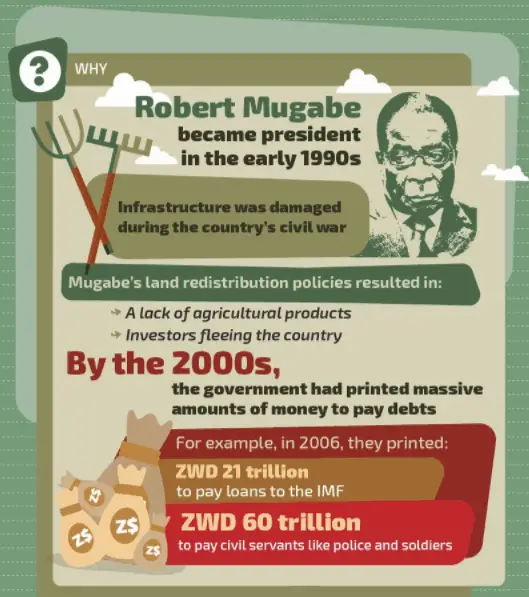 After a bloody civil war Robert Mugabe was elected President and he promptly became a dictator in all but name. He distributed the country's wealth as he saw fit (primarily to friends and relatives) and deposessed white landholding farmers in favor of black military members. Unfortunately, they knew nothing about farming and although Zimbabwe was once the bread basket of the region, soon the farms were not producing enough to sustain the country. Former landholders and investors fled the country fearing what he might do next. Taking the typical route the government began printing money to pay their debts and instituting price controls to appease the citizens, shortly the usual consequences ensued.
Life Under Zimbabwe Hyperinflation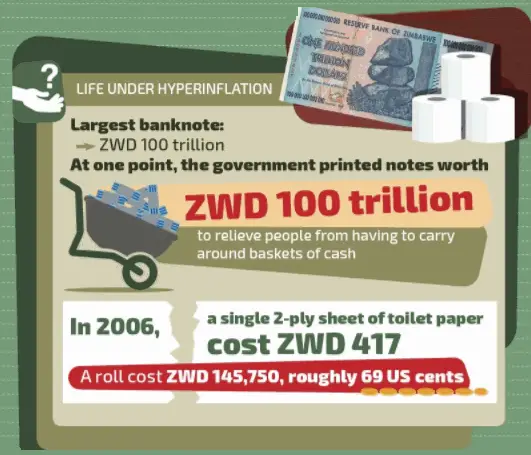 Everything became so expensive for Zimbabwe citizens that quantities were reduced eggs were sold by the each rather than the dozen and even toilet paper was sold by the sheet. By 2006 a single sheet of toilet paper cost 417 Zimbabwean Dollars while a whole roll cost 145,750 ZWD or 69 U.S. cents. But the point was no one had jobs or money, so although foreigners with outside sources of money could buy things cheaply there was almost nothing available to buy and there were very few foreigners to buy them.
How it Ended
Eventually the market in Zimbabwe corrected itself. Since the Zim Dollar was basically worthless and everyone knew it, other currencies were readily accepted on the "Black Market" (i.e. free market) before long no one would accept the Zim Dollar, so it basically died and the U.S. dollar became the defacto currency.
This infographic is copyright Commodity.com and has been reprinted by permission with additional commentary. To view the original infographic go here.
For more information on Hyperinflation See: