October 7, 2010
By Chris Ciovacco
The Bank of England (BOE) is due to make a statement today at noon in London (7:00 a.m. ET U.S.). The BOE's actions in the next 45 days may be important to investors in the U.S. and global commodity markets. All things being equal, a weak U.S. dollar tends to provide favorable headwinds to both U.S. stocks and commodities, such as oil (USL), copper (JJC), gold (GLD), and silver (SLV). With the BOE facing more bad news on the housing front today, political pressures to join the money-printing parties in the United States and Japan are mounting.
As shown below, the U.S. Dollar (UUP) and British Pound (FXB) tend to be negatively correlated. Should the Bank of England decide to stimulate further in the coming weeks and months, in the form of more quantitative easing, it could impact investors in the S&P 500, Dow, and NASDAQ, as well as those using commodities as a hedge against a weak dollar.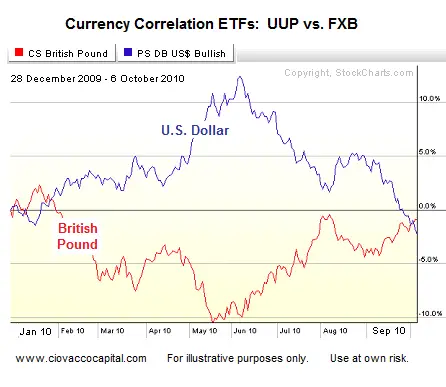 With exports impacted by stronger currencies, Japan (FXY), the U.S., and England are all looking to prevent their medium of exchange from appreciating too much. Japan recently announced additional plans for asset purchases and the U.S. Fed is hinting strongly at following along at their November 3, 2010 meeting. The BOE has a decision to make over the next few weeks. It is widely expected no significant changes to BOE policy will be announced this morning, but it is something investors should keep on their radar.
The daily CCM 80-20 Correction Index closed Wednesday at 604, which keeps us at a point of relatively low-risk for a major market correction. Roughly 80% of the corrections we studied occurred from points when the 80-20 values were greater than 604. The CCM Bull Market Sustainability Index (BMSI) closed Wednesday at 2,807. Markets Downside Risk Mitigated By Fed, Economy, and Technicals contains a BMSI table which shows historical risk-reward ratios for BMSI values.
Originally Published by Ciovacco Capital Management