The Consumer price index was created in 1917 during a highly inflationary period during World War I and then calculated back to 1913 using available food price data. Each decade since has had its own unique characteristics and challenges. Therefore we have created a separate page highlighting the characteristics of that unique decade.
The Chart below shows the Average Inflation Rate for each decade (per year). Each bar is calculated to represents the average (i.e. geometric mean) for the decade. In other words, if  one year had 1%, the next year had 2%, the 3rd year had 3% etc the average inflation for the decade would be 5.5%, the Geometric Mean would be 4.528% and the total cumulative inflation for that 10 year period would be over 55%.
There were two decades in the chart below where you might think that the numbers were large enough to be for the entire decade, rather than just being the average annual rate for a single year. During the years from 1913 -1919 inflation was rampant due to WWI and then again in the 1970's annual inflation rates were exploding. This resulted in a cumulative total inflation for the years 1913 until the end of 1919 of 97.96% (in only 7 years) while the inflationary 1970's saw 102.91% over the entire decade. For more information and charts for all the decades see Decade Inflation.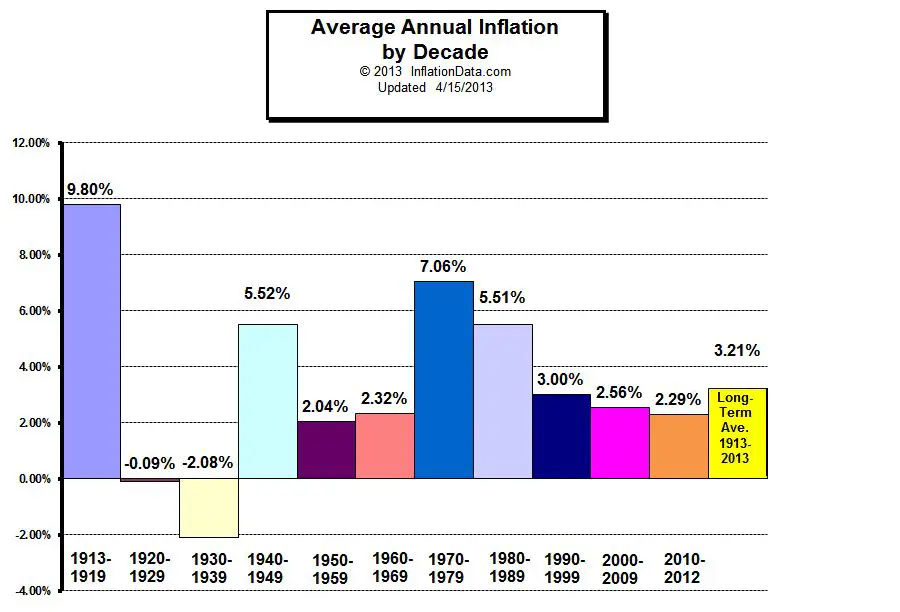 Information about Individual Decades: